Galaxy A90 coming to the US as a gaming-worthy phone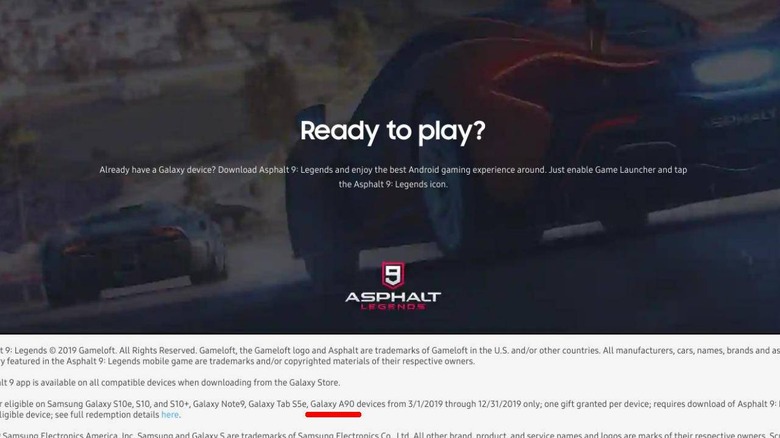 Samsung has recently given its Galaxy A series a new calling, becoming its test bed for new features that could eventually make its way to the company's premium models. Those included, for example, quad cameras, a side-mounted fingerprint scanner, and, of course, the infamous hole-in display. The Galaxy A phones themselves have mostly been unavailable in the US but based on a Samsung's own US website, the still to be announced Galaxy A90 might be the lone exception to that.
The Galaxy A90 could be one of Samsung's most eccentric experiment yet, so the idea that it would be available in the US is definitely an interesting proposition. It has also been quite a while since any member of the mid-range Galaxy A line was sold in the market.
The hint comes from Samsung's US landing page for an Asphalt 9 promotion. A footnote lists the "gaming devices" eligible for the exclusive offer, including the three Galaxy S10 models, the Galaxy Note 9, and even the Galaxy Tab S5e. The unreleased Galaxy A90 is also included, implying that it has the hardware to qualify as a gaming device.
That might be the least interesting aspect of the phone, though. According to rumors, the Galaxy A90 will sport not just a popup camera but one that rotates as well. In addition to having no bezels, the rumor suggests that it will be using the same high-quality camera for both regular photos as well as selfies.
Whether that makes practical sense or not remains to be seen but the Galaxy A phones are meant to play with new features anyway. Presuming the web page is spot on, Samsung does seem to be confident enough that this experimental will actually sell in the US despite or maybe because of its oddity.