Galaxy A8 is shaping up to be a fine, mid-range Galaxy S6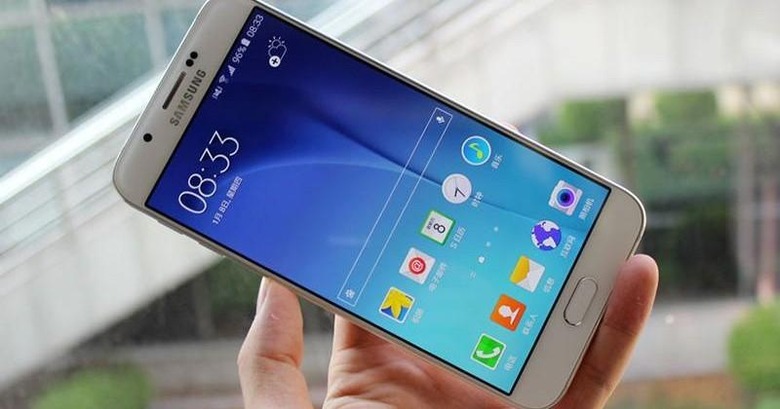 Late last month we caught a glimpse of the Galaxy A8 in China's TENAA and it looked almost like a Samsung Galaxy S6 knock-off. It turns out, there might some truth to that but not in a negative sense. A pre-release hands-on of this mid-range smartphone reveals some interesting tidbits about it. In addition to its extremely slim profile, the Galaxy A8 is indeed almost a blow for blow match to the Galaxy S6 but with slightly lower specs and an expected lower price tag to match.
It might be easier to start with where the two differ. Being a phablet, the Galaxy A8 has a considerably larger 5.7-inch screen but with also surprisingly decent 1080p resolution. The mid-range part comes from the octa-core Qualcomm Snapdragon 810 and 2 GB of RAM. The battery is, strangely, actually better, at a large 3,050 mAh.
Design-wise, the the smartphones are markedly similar. The Galaxy A series has also been about metal, or pseudo-metal, builds, which matches that of the Galaxy S6. That said, the Galaxy A8 went with its predecessors' straight chamfered edges instead of the rounded curves of the Galaxy S6. One other key difference is the thickness, with the Galaxy A8 almost a full 1 mm thinner at 5.9 mm.
Key features are, surprisingly also similar. There's a fingerprint sensor, a first for any Samsung mid-tier device. The cameras are also almost exactly the same, with a 16 MP f/1.9 shooter at the back and a 5 megapixel camera on the front. If these are the exact same sensors, then we can expect the same high quality that DxOMark has awarded the Galaxy S6. But perhaps that would be hoping too much.
The Samsung Galaxy A8 is a bit of a puzzle. While it's definitely welcome news to have a mid-range Galaxy S6, its existence could further steal sales away from the flagship, which is reportedly not doing that well at all. Samsung is expected to announce the Galaxy A8 in China July 15 next week with availability set to start on the 17th. No news on price yet or whether Samsung plans to bring this odd wonder to other major markets.