Galaxy A8 might be Samsung's thinnest yet, hits TENAA, FCC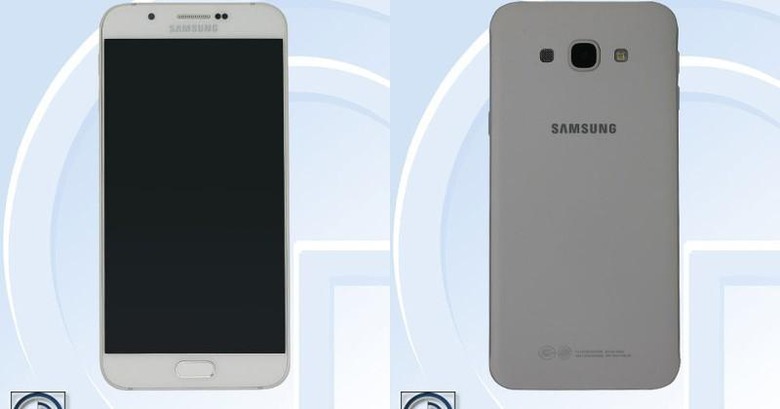 The Galaxy S6 and Galaxy S6 edge might have taken most of the spotlight when it comes to Samsung's roster, but that doesn't mean those are the only interesting ones in its lineup. The Galaxy A series launched last year to bring a semblance of premium, non-plastic design to a mid-range market, which did indeed make a few heads turn. Now the latest addition to that family might again be notable. The Galaxy A8, spotted in TENAA and the FCC could very well be Samsung's thinnest smartphone.
This Samsung Galaxy A8 isn't exactly the thinnest smartphone. The almost absurd title still belongs to Vivo's X5Max and its 4.75 mm profile. According to TENAA's detailed list, the Galaxy A8 doesn't even come close at 5.94 mm, but it is very well the thinnest in Samsung's family. It is also considerably thinner than a 6.9 mm iPhone 6.
That might not be the Galaxy A8 only claim to fame. Leaks indicate that it could also have a premium metal build, just like the Galaxy Alpha itself, likened to a budget version of the Galaxy S6. That said, the Galaxy A3 to A7 somewhat "faked" this property, so it remains to be seen whether the Galaxy A8 will follow those footsteps as well. Needless to say, It could look pretty nice for a budget phablet.
And budget and phablet it is, measuring 5.7-inches and with specs that are decent but won't reach flagship levels. That screen comes with a Full HD resolution. The device is powered by a 1.5 GHz octa-core, believed to be the 64-bit Qualcomm Snapdragon 615. 2 GB of RAM is definitely adequate and 16 GB of storage might be forgivable. The cameras, particularly the rear one, is a bit puzzling. TENAA lists it as "8 megapixels (16 megapixels)". So either we have a dual camera setup, which doesn't seem likely based on the photos, or we're looking really at a 16 MP shooter. The front one is a selfie-friendly 5 MP.
The Samsung Galaxy A8 also appeared at the FCC, but curiously the band of the particular model that was approved seemed to be for Chinese networks. That said, the other members of Galaxy A series did come to the US, so we could be forgiven if we expect this one to land here too.
VIA: phoneArena