G-Technology By Hitachi Throws Dual Drive 8TB RAID Thunderbolt External HDD Onto Market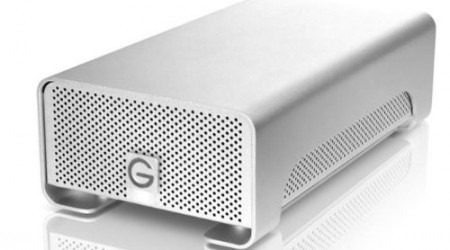 It's no surprise that G-Technology by Hitachi has unveiled a new external HDD today that has 8TB of storage inside. Seagate unveiled its own 4TB external yesterday and it's normal for others to come out with similar gear shortly thereafter. The G-Technology drive has some really cool features though and looks like it was meant to coordinate with a Mac style wise. The drive is called the G-RAID and as you might guess, it has a pair of HDDs inside.
Each of those HDDs hiding inside the shiny aluminum enclosure has 4TB of storage so this is an 8TB total capacity drive. With two drives inside the storage device, it is configure with RAID 0 right out of the box. The drive is going to be offered with a Thunderbolt port for your Mac providing 10 Gbps of data transfer to make for some speedy backups and file transfers. Other interface versions will also be offered. The drive is specifically designed with video editing in mind and promises excellent cooling.
The drive is preformatted for use with Mac OS X computers and the fan inside the enclosure to keep the drives cool is very quiet. The HDDs inside the enclosure are the new Hitachi 4TB 7,200 rpm offerings. Each TB of storage space on the drive can hold 2.5 hours of HD 1080/60i video. The drive will also be offered with eSATA, FireWire 800 and USB 2.0 ports. It will land in October with the Thunderbolt version coming in Q4. Pricing is unannounced.