Futaba 0.22mm flexible OLED watch concept wants your wrist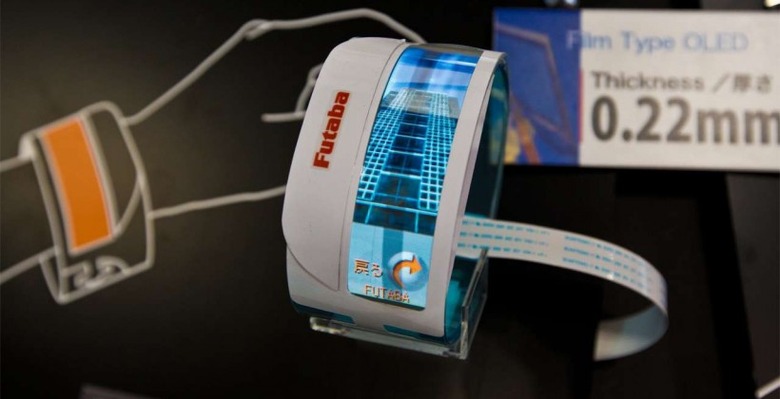 Ditch your Omega and get with the high-tech watch times, granddad: Futaba is hoping the well-dressed wrist of tomorrow will be sporting its flexible OLED, the company's thinnest yet. Just 0.22mm thick, and easily capable of being bent around your arm – such as in the watch concept Futaba is showing at CEATEC this week – the 3.5-inch display makes current smartwatches look clunky in comparison.
The display is an odd aspect ratio – long and narrow, to wrap around your wrist – and so the resolution is atypical at 256 x 64. Brightness is 100 cd/m2, and of course there's full color support; if you've ever wanted to watch video of very tall, narrow buildings as well as tell the time, this could be the concept for you.
What we don't know is power consumption. Recent smartwatches have used e-paper or transflective panels so as to minimize energy requirements, on the assumption that a compact device will only have minimal space for a battery but still be expected to deliver all-day runtimes. Futaba wasn't saying exactly what sort of power draw the 0.22mm OLED demanded, though the display technology has generally been more frugal than traditional LCD.
Of course, this watch itself won't be hitting the market, as it's just a way for Futaba to show off what its flexible OLED is capable of. Still, the screen technology is production-ready – the company had a 0.29mm version back in June – and is just waiting on a vendor with a suitable application to snap it up.