Further Windows Mobile 6.5 screenshots leak: IE mobile gets new controls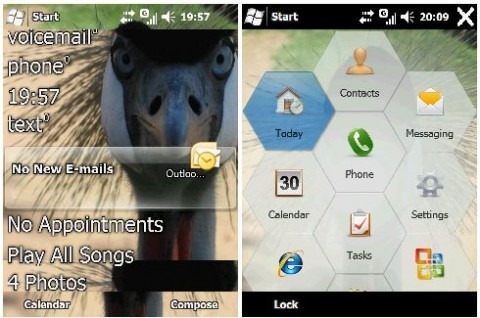 More leaked screenshots of the new Windows Mobile 6.5 GUI have emerged, courtesy of the XDA-Developers forum, again showing the new honeycomb interface and, bizarrely, a huge scary bird wallpaper.  Ill-advised backgrounds aside, the shots look slightly less polished than the previous round of leaks, although its been claimed that those images were actually concept pictures rather than true screenshots.More screenshots after the cut
The pictures we have here – which are apparently from an actual device, and not concept images – also show the new Internet Explorer Mobile interface, which has gained bigger buttons (to make them more finger-friendly, and reduce the need for stylus use) and an on-screen zoom control slider.  The large 'close' cross in the top-right corner is also present.
Finally, the last image is of the locked screen, which will apparently display the time, date, number of missed calls and whatever odd, bird-themed wallpaper you're currently using.  Unfortunately we don't know if Microsoft have implemented a nifty "slide to unlock" system, as on the iPhone, or even a "connect the dots" more secure method as on Android.
Windows Mobile 6.5 is expected to be launched at Mobile World Congress in Barcelona next month.  SlashGear will be there, bringing you all the details; you can track all the new news with the MWC 2009 tag.
[via SlashPhone]