After the first announcement of the Mandalorian line of Funko Pop! figures on October 1, one action pose is already sold out. Normally we'd not be covering something so extremely specific as this, but there's a trend happening here – The Mandalorian is hot!* The single Funko Pop! that's sold out in less than a week is ITEM NO: 43111 Pop! Star Wars: The Mandalorian number 330 – in a fancy action pose with blaster pistol!
The Funko Pop! figure we're looking at here has one of those "2019 Fall Convention" stickers on its front – which essentially means it's meant to seem more limited than its brethren. Revealed just before Triple Force Friday, the full Mandalorian line of Funko toys was shown – and this wasn't one of the main group.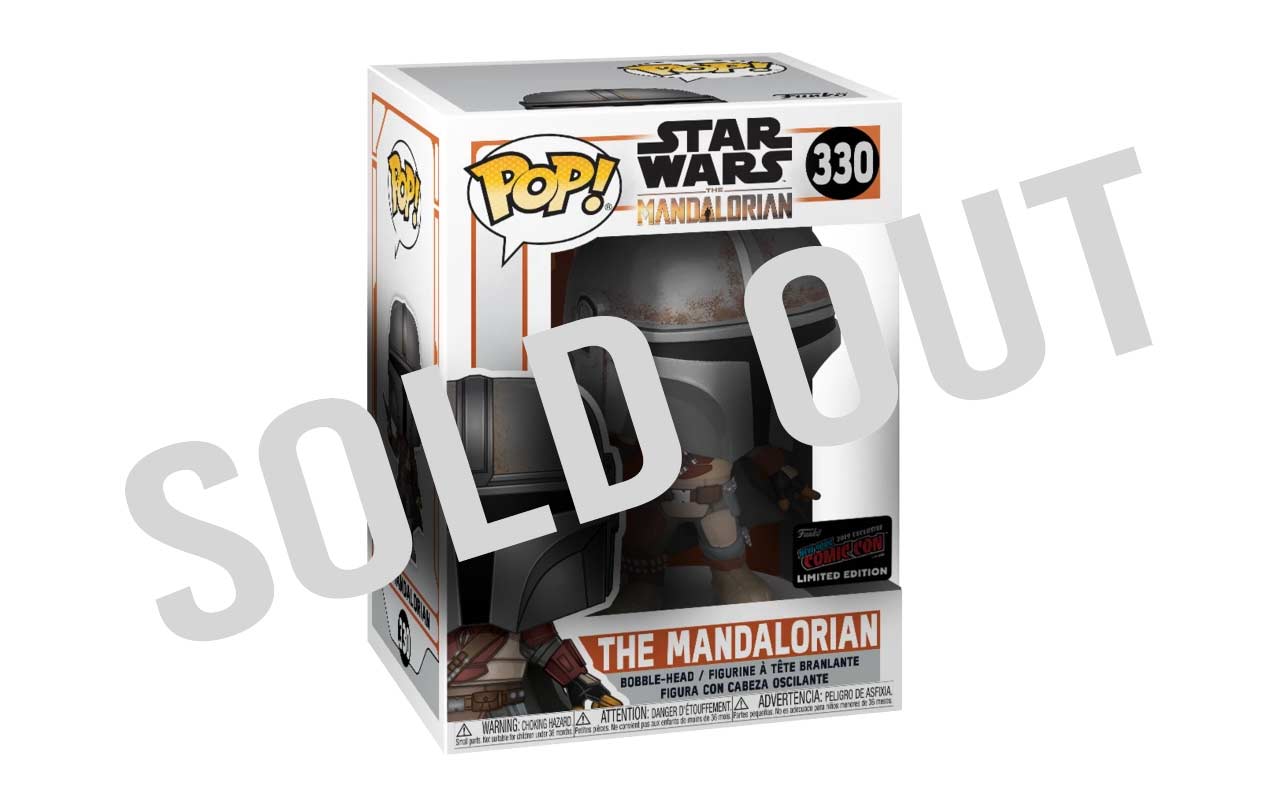 Included in the first press release were just four figures, including the alien Kuiil, hunter killer droid IG-11 (don't call him IG-88 or he'll blow a gasket!), and rebel fighter Cara Dune. Also in the mix was a different pose for the Mandalorian himself, presumably made in larger numbers for a less limited-edition sort of spin on the anti-hero.
You'll still see these four standard figures out on store shelves now, unless you've got an extra-ravenous set of Pop! hunters in your area. If you happen to find one of the 2019 Fall Convention Mandalorian figures, keep in mind that it's pretty much sold out everywhere online. Not that it's worth an intense amount of cash (anywhere between $31.99 and over a hundred on eBay so far) – but still. Limited is as limited does.
• 5 Star: Scott Pilgrim – Scott Pilgrim
• 5 Star: Scott Pilgrim – Ramona Flowers
• 5 Star: Scott Pilgrim – Knives Chau
• Pop! Funko: Officer Freddy Funko
• Pop! Icons: NYCC Paulie Pigeon (Red)
• Pop! Icons: NYCC Paulie Pigeon (Black)
• Pop! Star Wars: The Mandalorian
• Pop! Marvel: Ms. Marvel
• Pop! Animation: Wacky Races – Clyde
• Pop! Animation: Wacky Races – Professor Pat Pending
• Pop! Television: Community – Britta Perry
• Pop! Movies: Back to the Future – Marty McFly
• Pop! Ad Icons: PEZ – Mimic the Monkey
• Pop! Ad Icons: PEZ – PEZ Girl
• Pop! Animation: Aku & Samurai Jack 2-Pack
Above you'll find the full collection of Funko NYCC "Fall Convention Shared Exclusives" as listed by Funko back on October 3. Several of these figures are still available through the Funko shop online and through 3rd-party resellers at this time – but watch out for flippers!
*The Mandalorian will be released on November 12, 2019 in streaming format. At that time it'll be launched with the Disney+ subscription streaming service. See the timeline below for more recent appearances of newsworthy Mandalorian happenings!