Full HTC Incredible specs leak from Verizon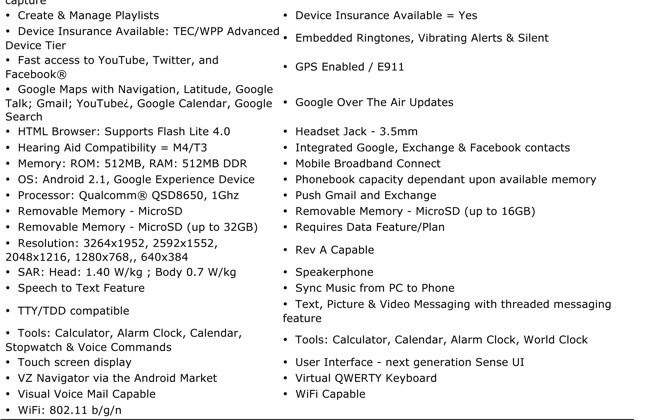 Verizon's HTC Incredible looks set to cast even the carrier's imminent Google Nexus One into the shade, and going by this leaked spec sheet that found its way into the BGR's hands, we're wondering who exactly would pick the Nexus.  The Incredible has a 1GHz Snapdragon chipset with 8GB of internal memory, an 8-megapixel autofocus camera and EVDO Rev.A.  There's also a 3.7-inch WVGA OLED capacitive touchscreen and WiFi b/g/n.
The whole thing measures 4.63 x 2.3 x 0.47 inches, which actually makes it a little smaller than the Nexus One too.  It'll also come with HTC's Sense interface running on top of Android 2.1.  All in all, we can't wait for this smartphone to hit the market, and only the HTC EVO 4G really stands a chance of besting it in the near future.  Click here for the full-sized image.
[via Android Community]