Fujitsu ScanSnap S1300i scanner is almost the road-warrior's salvation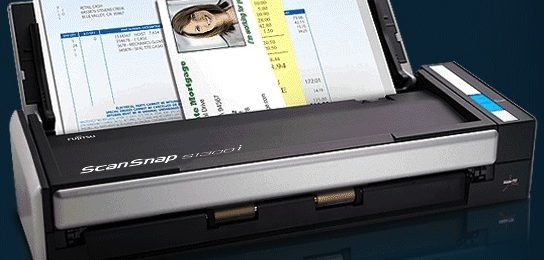 Having talked about how you can print from your iPhone yesterday, now how about getting some paper content into your handset thanks to the Fujitsu ScanSnap S1300i. The portable scanner works with PCs and Macs, as per previous models, but also plays nicely with iOS and Android devices thanks to apps for each platform. Unfortunately, it's not quite the roadwarrior dream it could've been.
With the footprint of half a piece of paper, and capable of being USB bus powered – albeit using two of your USB ports – so that you don't need to tote a separate PSU, the ScanSnap S1300i will work as a regular multi-sheet scanner. It can also scan straight to your Dropbox, Evernote, Google Drive or other cloud storage services.
However, the Android and iOS apps allow you to scan to your phone or tablet instead; unfortunately you'll still need to have a PC or Mac connected to act as an intermediary. That's the big missed opportunity for Fujitsu: if they'd integrated WiFi and made it so you could wirelessly connect your iPhone directly to the scanner, it would've been far more useful.
Scanning speeds of up to 12 pages per minute automatic detection of color, grayscale or monochrome, and a 10-sheet document feeder round out the key specs. So close, Fujitsu, and yet not quite on the mark. The ScanSnap S1300i is available now, priced at $295.