Fujitsu ScanSnap S1100 portable document scanner unveiled

Fujitsu's latest ScanSnap document scanner has been unveiled, and it's the smallest in the company's range to date. The Fujitsu ScanSnap S1100 measures a mere 10.74 x 1.87 x 1.33 inches and weighs 12.3 oz, and is USB bus powered for easier use, but can still scan a letter-sized color document in 7.5s. There's also support for scanning plastic cards, such as credit cards, or scan direct to Evernote or Google Docs.
Although there's no sheet feeder as on the larger ScanSnap models, you do get a continuous document feeding function which allows you to turn on scanning, feed in pages at your leisure, and then end the process later, with all documents saved concurrently. By using a highlighter, you can also create searchable keywords.
You miss out on duplex scanning, which the ScanSnap series is known for, but gain in portability. The Fujitsu ScanSnap S1100 is available now, priced at $199.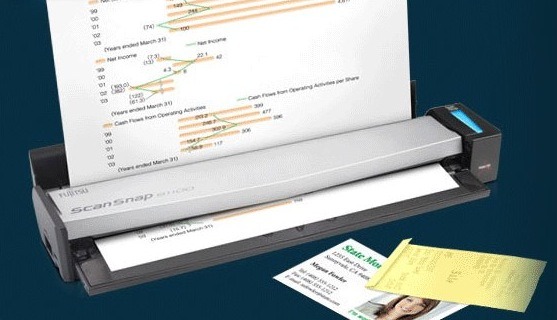 Press Release:
Fujitsu Introduces Next Generation Cross-Platform Portable Scanner to its ScanSnap Line

New "One-Button" Mobile Scanner Quickly Digitizes Documents Wherever You Go; Scan Directly To The Cloud for Easy Organizing and Sharing

Sunnyvale, CA, January 5, 2010 — Fujitsu, the market leader in document imaging scanners, today introduced one of the world's smallest document scanners, the Fujitsu ScanSnap S1100, designed with many of the same advanced functionality and productivity features of its larger, award-winning ScanSnap predecessors. The new ultra-portable scanner, weighing just over 12 ounces and featuring a new sleek style, easily fits into a briefcase or purse and digitizes your documents anywhere, and at any time – whether at home, in the office, at a cafe or traveling around the world. Fujitsu will give live product demonstrations of its new ScanSnap S1100 at the 2011 International Consumer Electronics Show (booth: 35861 South Hall Upper Level), January 6-9 in Las Vegas.

The ScanSnap S1100, designed for use with a PC or Mac, utilizes its innovative paper path system and fast front-side color scanning functionality to quickly scan anything from contracts and long receipts to business cards and plastic IDs. For complete flexibility and productivity at home or on the go, the ScanSnap S1100 is powered by a single USB cable, converts scanned data into searchable PDF files and even allows you to quickly transform your paperwork into editable Word and Excel files. Additionally, the ScanSnap S1100 enables you to scan documents directly to Evernote® and Google Docs™ cloud services, making your paperwork and photos easy to store, share and access from just about anywhere.

"Since the launch of the first ScanSnap in 2003 we have not only consistently expanded its features for both consumers and small office professionals, but have also broadened the product lineup to include desktop, personal and now a true mobile scanning solution," said Scott Francis, vice president of marketing, Fujitsu Computer Products of America, Inc. "Simply put, the ScanSnap S1100 takes many of the most popular and powerful features of its larger predecessors and gives users the flexibility and tools they need to be more efficient and paperless anywhere, and at anytime."

Advanced Features to Make Scanning On-the-Go Easy!

The ScanSnap S1100 incorporates many of the powerful, advanced, easy-to-use features of its larger ScanSnap predecessors, such as the ScanSnap S1500(M) and the ScanSnap S1300, and packs them into a compact, mobile form factor, giving users even more flexibility to be productive, efficient and paperless wherever they go. Key features of the ScanSnap S1100 include:

The Smallest and Lightest ScanSnap in the World: With an ultra-compact footprint measuring a mere 10.74 x 1.87 x 1.33 inches and weighing only 12.3 ounces, the ScanSnap S1100 is the perfect solution for digitizing your paper world anywhere, and at anytime.

Fast Scanning Speeds: With the push of a button, ScanSnap S1100 can scan a letter-size sheet of paper in an astounding 7.5 seconds (300dpi, color).

Cloud Services Support: The ScanSnap S1100 enables you to scan documents directly to Evernote and Google Docs cloud services, making your paperwork and photos easy to store, share and access from just about anywhere.

Continuous Document Feeding (CDF): Utilizing the scanner's Continuous Document Feeding (CDF) function, users are able to scan multiple-page documents into PDF by simply pushing the "Scan" button and inserting each page into the scanner. After scanning is complete, users simply push the "Scan" button again to end the scanning task and convert the data into a PDF.

Switchable Paper Paths: With an adjustable two way paper path, ScanSnap S1100 is able to support a wider range of documents such as plastic cards, IDs and thick stock (through the strait paper path), normal paper, as well as long forms up to 34 inches (through the "L-shaped" paper path).

Intelligent Document Processing: For convenient automated scanning, ScanSnap S1100 selects the page size and page orientation while adjusting the resolution accordingly, and will recognize a document as color, black & white or grayscale.

Mark Text Function: To quickly and easily search and find documents, users can utilize a standard highlighter pen on a black & white document to automatically create searchable keywords of the highlighted text, such as an invoice number or last name.

Powerful Software for the Paperless Lifestyle

ScanSnap S1100 comes with software for PC and software for Mac so consumers who use both can optimize their ScanSnap for either platform with ease, making the scanner even more mobile and efficient. In-box software includes:

Scan to Word and Excel: ABBYY FineReader for ScanSnap™ allows users to be productive by quickly transforming their paperwork with machine print into editable Word and Excel files.

Efficient Business Card Scanning: PC users can capture a business card, extract the information automatically and export it to Outlook, Excel, Act! and other contact management software. While Mac users can conveniently scan their business cards and export the contact information directly to Address Book or Entourage.

Scan-to Functions: The ScanSnap S1100 offers users a flexible way to manage PDF, searchable PDF and JPEG files, providing users with an easy way to scan to a folder, a network folder, attach scans to an email, and send scans to a printer.

ScanSnap Manager: Provides PC and Mac users one button searchable PDF creation, access to intelligent features and custom scan settings (profiles) for simple operation with sophisticated results.

Pricing & Availability

The Fujitsu ScanSnap S1100 is available now for $199 (U.S. list) through online dealers, through Fujitsu authorized resellers, and the Fujitsu store located at http://www.buyfcpa.com.