Fujitsu PRIMERGY RX6000 web server is world's best performing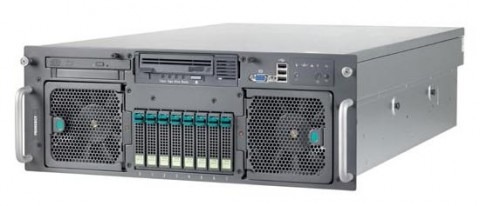 Fujitsu's PRIMERGY RX600 rack server has taken the title of best-performing web server in the world, after achieving a SPECweb2005 score of 47,504.  The 4U rack server uses the new Intel Dunnington multi-core processor, and in the case of the record-setting model incorporated four of the six-core CPUs. 
It also boasted 64 GB of memory and four Intel PRO/1000PT Quad-Port Gigabit Ethernet controllers.  Meanwhile five internal SAS 2.5-inch disks handled the OS and webserver log files, while the workload file was kept on 48 external 3.5-inch SAS disks in four FibreCAT SX40 storage subsystems connected to a LSI MegaRAID SAS8880E PCIe disk controller.
The previous highest result was a SPECweb2005 score of 43,854.  Full results will be published on December 18th on the SPEC website.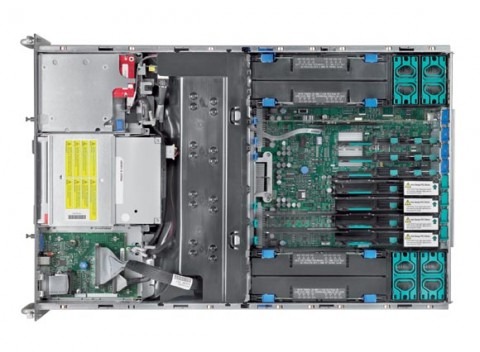 Press Release:
World's fastest web server takes a bow

Enterprise-class PRIMERGY RX600 server from Fujitsu Siemens Computers sets all-time high score on SPECweb benchmarks

It is officially the world's fastest web server: Benchmark test results prove that the PRIMERGY RX600 rack server is the best-performing web server in the world. The results will be published tomorrow (December 18).

Fujitsu Siemens Computers made use of the new Intel Dunnington multi-core processor family, introduced in the fall, in setting the new SPECweb2005 benchmark with a PRIMERGY RX600 S4 datacenter-class rack server, which is designed to offer robustness and redundancy features in a space-optimized 4U rack module.

In retaking the lead, Fujitsu Siemens Computers has demonstrated the benefits of using the industry-standard SPECweb2005 benchmark to help optimize datacenter web servers. The newest results, recorded last month at the Fujitsu Siemens Computers benchmarking laboratories in Paderborn, Germany, represent the latest top score in a closely-contested category.

The SPECweb2005 test measures machine performance as a web server, handling requests for static and dynamic page requests, and simulates three different workload scenarios. Under official test lab conditions, the world record-setting PRIMERGY RX600 S4 returned a SPECweb2005 score of 47,504. This exceeded the previous-best result, established by a US server vendor, of 43,854.

Says Jens-Peter Seick, Senior Vice President, Enterprise Server Business at Fujitsu Siemens Computers: "The latest world record demonstrates the value of the SPEC benchmark for web servers. Not only is it a development platform for vendors to ensure their server performance is optimized, but also it enables datacenter IT managers to really understand the performance of their enterprise web servers, in environments where space and performance really count."

Specification of the record-setting PRIMERGY RX600 S4: Four six-core Intel Xeon X7460 (Dunnington) processors, 64 GB of memory and four Intel PRO/1000PT Quad-Port Gigabit Ethernet controllers. The server was fitted with five internal SAS 2.5" disks for the operating system and webserver log files, and used 48 external 3.5" SAS disks in four FibreCAT SX40 storage subsystems connected to a LSI MegaRAID SAS8880E PCIe disk controller for the workload files.

Full details of the test results will be available on the SPEC website from December 18 at: http://www.spec.org/web2005/results/web2005.html