Fujitsu LOOX U gets expensive 2GHz Atom Z550 option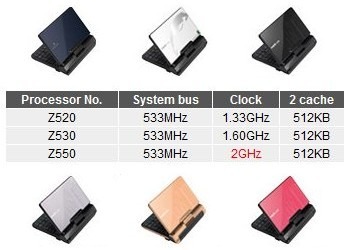 Fujitsu are the first to outfit a model from their ultraportable range with the Intel Atom Z550 running at 2GHz.  The Fujitsu LOOX U – variously known as the LifeBook U820 and U2010 in different markets – can now be specified with the faster Atom chip; the existing 1.33GHz Z520 and 1.60GHz Z530 options remain.
Otherwise the LOOX U has 1GB of RAM, up to 120GB storage and a 5.6-inch convertible touchscreen.  There's also WiFi b/g/n, Bluetooth 2.0 and a choice of chassis colors.
It seems likely that the 2GHz Z550 chip will spread to the other international versions of the UMPC.  Upgrading to the 2GHz processor via Fujitsu Japan's online store adds around $383 to the cost of the LOOX U, an expensive option when you consider the 1.33GHz model currently starts from around $675.
[via Pocketables]