Fujitsu LifeBook T5010 Tablet PC confirmed by university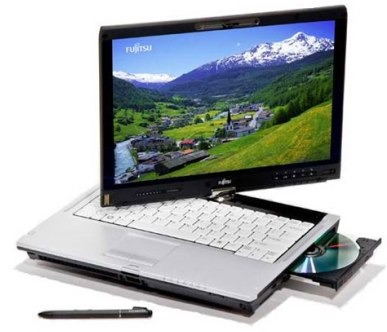 Details of Fujitsu Siemens' latest Tablet PC have been let slip by Virginia Tech, with the LifeBook T5010 being advertised on the university bookstore website.  Described as "the only tablet available before Fall 2008 classes begin that uses Intel's latest generation processor and chipset", the T5010 uses a 45nm Centrino Core 2 CPU, has 2GB of DDR3 1066MHz RAM, a 13.3-inch WXGA display with LED backlight and 5,400rpm 120GB hard-drive.  A slide from the company [pdf link; page 36] confirms that this is the replacement to the LifeBook T4220.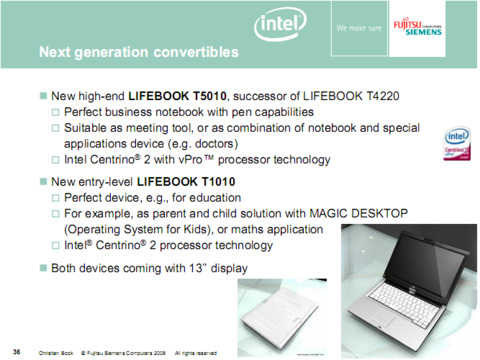 Also under the hood is WiFi a/g/n, Bluetooth 2.1+EDR, a dual-layer DVD burner and integrated Intel graphics.  A webcam lurks up in the screen bezel, as does a fingerprint reader.  Ports include three USB, VGA out, LAN, Modem, Microphone In, Headphone Out, and the whole unit measures 12.5 x 9.6 x 1.4-inches and weighs 4.4lbs.
Interestingly, the T5010 is down as running Windows XP Tablet Edition, which seems unlikely as Microsoft have previously said that OS won't be permitted on new machines.  Since most versions of Vista now have pen-input functionality, it's far more likely that Vista Business will do OS duty. 
Virginia Tech have it down as starting from $1,999, with delivery at the beginning of the new academic year.  It's unclear what level of institutional discount has been applied to get to that price, and aside from the presentation slide Fujitsu themselves are keeping quiet about the new convertible.
[via Tablet PC Review Spot]