Fujitsu LifeBook T5010 latest to get multitouch magic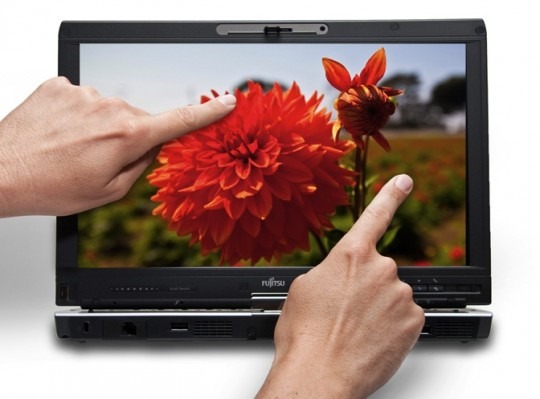 Lenovo isn't the only manufacturer with multitouch on their mind; Fujitsu have just announced an update to their LifeBook T5010 that adds two-finger touch sensitivity to the convertible notebook.  The LifeBook T5010's 13.3-inch display will now support pinch-zoom, rotate and other two-finger gestures in Windows 7, as well as more traditional pen-input using an active digitizer.
The tablet keeps its Intel Core 2 Duo processor and bi-directional hinge, together with the webcam, dual microphone array and spill-resistant keyboard.  Options include a second battery – which replaces the optical drive – and integrated 3G mobile broadband, from either AT&T or Verizon.
There's also a fingerprint reader and smartcard slot.  The new Fujitsu LifeBook T5010 Dual Digitizer starts from $1,859 (compared to the regular, pen-only model from $1,759) and is available to order now.
Press Release:
Fujitsu Adds "Touch" to Its Flagship LifeBook T5010 Convertible Tablet PC

Begins Rollout of New LifeBook Mobile PC Series Designed to Exploit Anticipated Windows 7 Features

Fujitsu LifeBook T5010 Convertible Tablet PC With Multi Touch Screen Option

SUNNYVALE, CA–(Marketwire – September 15, 2009) – Fujitsu gave mobile users in North America another reason to choose the LifeBook(R) T5010 convertible tablet PC today, announcing the convenience of multi touch input. The new dual digitizer's touch screen function on the 13.3-inch display offers a new level of interaction by supporting two-finger touch for actions including panning, rotating, flicks and zooming. With seamless switching between pen and touch, users can change tasks on the fly, from casual surfing to detailed editing or writing.

The Windows Vista(R)-based LifeBook T5010 convertible tablet PC is the first in a line of new LifeBook platforms and form factors designed to take advantage of the advanced capabilities of Microsoft's soon-to-be-launched Windows 7.

News Highlights

NEW optional dual digitizer (active digitizer/capacitive touch) with two-finger support for gestures including zoom, rotate, and flicks; stylus support for inking, editing/annotating files

Converts from tablet into a standard notebook with keyboard input using the industry's first bi-directional swivel hinge

Weighs approximately 4.5 pounds in weight-saver configuration

13.3-inch mercury-free WXGA bright LED backlight LCD with wide viewing angles

Modular bay, which supports an optical drive or optional second battery

Optional mobile broadband support on select models (AT&T integrated broadband connect and Verizon Wireless mobile broadband built in)

Enterprise manageability support with Intel active management technology

Optional Microsoft(R) Windows 7 Professional (free upgrade) and Vista Business (XP downgrade)

Intel(R) Core(TM) 2 Duo processor technology

Full-size, spill-resistant keyboard with touchpad

Optional integrated webcam and (standard) dual digital microphones

Full suite of security features: dedicated SmartCard slot, integrated fingerprint sensor, security panel, BIOS and hard drive password protection, embedded TPM 1.2, Computrace(R) BIOS agent.

Priced starting at $1,759(1) with an active digitizer and priced starting at $1,859 with a dual digitizer option. Users can choose from a recommended configuration, or they can customize their LifeBook T5010 convertible tablet PC using the Fujitsu Configure To Order (CTO) program. Available immediately through the Fujitsu website and select retailers/e-tailers(2).

QUOTE

Paul Moore, senior director of mobile product management, Fujitsu America

"The LifeBook T5010 convertible tablet PC represents our initial offering in a line of dual digitizer convertibles that take advantage of the advanced capabilities of the anticipated Windows 7 operating system. The benefit of touch is that it's intuitive and practical. Consumers, mobile professionals and students will immediately see the value and convenience it adds to the computing experience."

Product Photos

LifeBook T5010 convertible tablet PC photo gallery

Related Links

LifeBook T5010 convertible tablet PC product information

Fujitsu Awards and Reviews

About Fujitsu

Fujitsu is a leading provider of IT-based business solutions for the global marketplace. With approximately 175,000 employees supporting customers in 70 countries, Fujitsu combines a worldwide corps of systems and services experts with highly reliable computing and communications products and advanced microelectronics to deliver added value to customers. Headquartered in Tokyo, Fujitsu Limited (TSE: 6702) reported consolidated revenues of 4.6 trillion yen (US$47 billion) for the fiscal year ended March 31, 2009. For more information, please see: www.fujitsu.com.

About Fujitsu America, Inc.

Fujitsu America, Inc. provides a complete portfolio of business technology services, computing platforms, and industry solutions. Fujitsu platform products are based on scalable, reliable and high-performance server, storage, software, point-of-sale, and mobile technologies. Fujitsu combines its renowned platform offerings with a full suite of onshore, near shore and offshore system integration, outsourcing, and datacenter services covering applications, operations, infrastructure, customer service, and multi-vendor lifecycle services. Fujitsu provides industry-specific solutions for retail, manufacturing, healthcare, government, education, financial services, and telecommunications sectors. For more information on Fujitsu America's business scope, visit http://solutions.us.fujitsu.com/.

(1) Pricing may change without notice.

(2) Certain retailers will only offer select models