Fujitsu LifeBook T2020 Tablet PC with Centrino 2 & indoor/outdoor display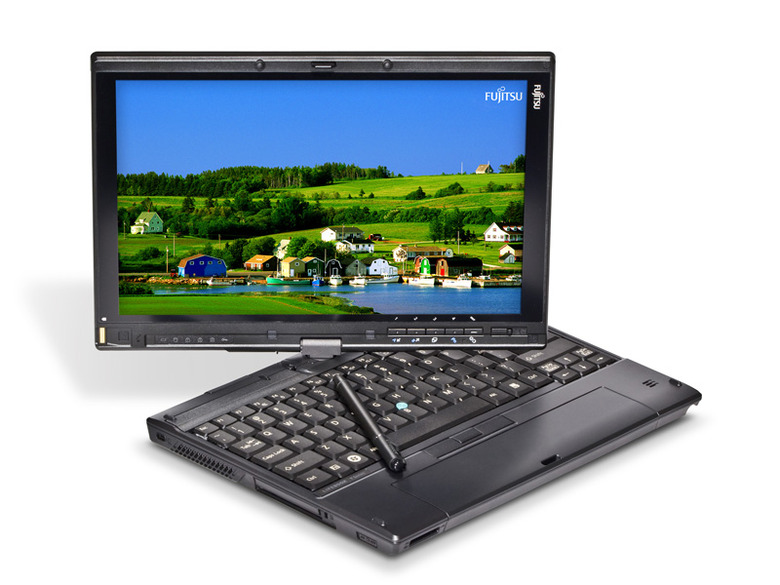 Fujitsu have updated their LifeBook T2010 Tablet PC in the shape of the LifeBook T2020, a 12.1-inch convertible with Intel's Centrino 2 chipset and an upcoming SSD option.  Changes elsewhere are minimal, so it's really the choice of SU9300 1.20GHz and SU9400 1.40GHz ultra-low voltage processors that are there to tempt you to update.
Other specs include 1GB of standard RAM or either 2GB or 4GB of Turbo RAM, a 12.1-inch WXGA 1280 x 800 display with optional indoor/outdoor panel, and hard-drives ranging from 80GB to a 250GB 7,200rpm or a 160 5,400rpm; two SSDs will be on offer later this year, either 64GB or 128GB.  OS is a choice of Windows Vista or Windows XP.
Standard connectivity includes WiFi and gigabit ethernet; Bluetooth 2.1 is an option, and 3G HSUPA WWAN is coming later in the year.  The range starts at $1,699 while a fully-equipped version will be around $2,500.
Press Release:
LifeBook T2020 sleek and ultra-light convertible tablet PC

New — Intel(R) Centrino(R) 2 processor technology with Intel(R) Core(TM)2 Duo SU9300 or SU9400 Ultra Low Voltage Processor

New — Solid state drive option (available later this year) for added durability

– Priced starting at $1,699(1) for a base configuration. Users can choose from a recommended configuration, or they can customize their LifeBook T2020 convertible tablet PC using the Fujitsu Configure To Order (CTO) program. Available immediately through the Fujitsu direct sales force, website and channel partners and select retailers/e-tailers(2)

– One of the lightest 12-inch wide tablet PCs on the market, weighing approximately 3.5 pounds with a slim 1.3-inch chassis and brilliant 12.1-inch widescreen WXGA LED back-lit display with active digitizer and indoor or indoor/outdoor options

– Pen-enabled convertible boasts extraordinary battery life of up to 11 hours(3) with the extended battery option, or 6.45 hours(3) with a standard 6-cell battery

– Robust bi-directional hinge with magnesium-alloy housing, shock sensor hard drive and spill-resistant keyboard

– Comprehensive security features including a built-in biometric fingerprint swipe sensor, dedicated smart card slot, pre-boot authentication, and integrated security panel

– Choice of Intel(R) Wireless WiFi Link 5300 or Atheros(R) XSPAN(R) WLAN

Quote

Paul Moore, Senior Director of Mobile Product Management, Fujitsu Computer Systems

"Our new LifeBook notebooks deliver more power, more features, and more style. By responding to the evolving needs of mobile professionals and consumers while always keeping performance and high reliability top priorities, Fujitsu continues to grow its base of loyal customers in North America."