Fujitsu LifeBook MH380 netbook latest on the Pine Trail train

We were less than impressed with Fujitsu's first attempt at a netbook, the Atom N270-based Amilo Mini Ui 3520, and so we're hoping the company makes a stronger showing with their Atom N450-powered Fujitsu LifeBook MH380.  The MH380 has a 10.1-inch, 1366 x 768 display, a 250GB hard-drive and 1GB of memory, as well as Intel's newest Pine Trail 1.66GHz processor.
The 2.97lb netbook is also said to manage up to 7hrs of runtime with its standard 6-cell battery, and we're glad to see Fujitsu have made both WiFi b/g/n and Bluetooth standard.
OS is Windows 7 Starter, there's a webcam and the usual selection of ports – including VGA, USB 2.0 and audio in/out – and the standard finish is a glossy ruby red with chrome accents.  Fujitsu will begin selling the LifeBook MH380 from January, priced at $449.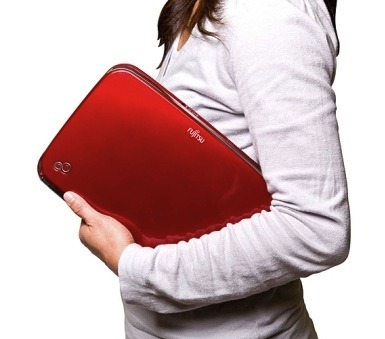 Press Release:
Fujitsu Introduces Stylish, Highly Mobile Mini-Notebook With Latest Processor Technology From Intel

LifeBook MH380 Mini-Notebook Features New Intel(R) Atom(TM) Processor N450 and 10.1-inch Display, Weighs Just 2.97 Pounds

Fujitsu (http://solutions.us.fujitsu.com) announced today in North America one of the first mini-notebooks to feature the new Intel(R) Atom(TM) Processor N450 (code-named Pine Trail), which offers increased processor and graphics performance and features greater energy efficiency for reduced power and improved battery life. The glossy, ruby-red LifeBook(R) MH380 mini-notebook has a starting weight of just 2.97 pounds and sports a 10.1-inch high definition HD display, webcam, Bluetooth, large hard drive and standard six-cell battery offering up to seven hours of battery life(1). With Microsoft(R) Windows(R) 7 Starter as the operating system, the LifeBook MH380 mini-notebook offers computing in a lightweight, highly mobile configuration.

Fujitsu LifeBook MH380 Mini-Notebook Highlights

2.97-pound starting configuration

Up to seven hours of battery life with standard six-cell battery

New Intel Atom Processor N450

Glossy ruby-red finish with chrome accents

10.1-inch HD display with 1366 x 768 maximum resolution

250 GB hard drive and 1 GB of RAM memory

Windows 7 Starter with Microsoft Works 9.0 and Microsoft Office Home and Student 60-day trial

Atheros(R) 802.11 b/g/n wireless

10/100 LAN card

Integrated webcam and Bluetooth wireless

Priced at $449 for a fixed configuration. Available next month through the Fujitsu website and select retailers/e-tailers(2).

QUOTE

Paul Moore, Senior Director of Mobile Product Management, Fujitsu America "The LifeBook MH380 mini-notebook represents the next generation in this class of product. Users will experience better performance while maintaining a very lightweight affordable PC. The LifeBook MH380 mini-notebook combines the new Intel(R) Atom(TM) Processor and Fujitsu know-how to create a highly reliable, energy-efficient mobile platform that enables mobile users to get more done while constantly on the go."