Fujitsu FMV LOOX C CULV 11.6-inch ultraportables debut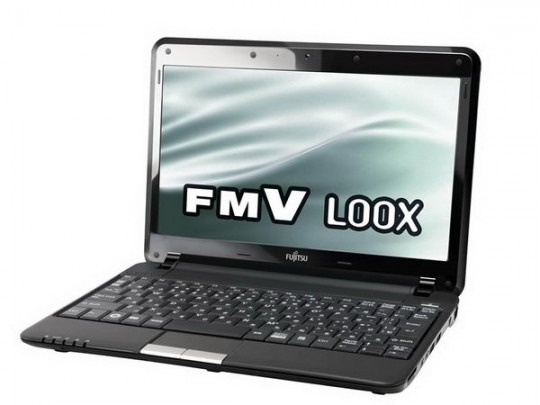 Fujitsu Japan have announced their first CULV based ultraportable, in the shape of the 11.6-inch FMV LOOX C.  The new notebook offers a choice of Intel 1.2GHz Celeron SU2300 or 1.4GHz Core 2 Duo SU9400 processors, paired with the GS45 Express chipset and GMA 4500MHD graphics driving the 1,366 x 768 display.Update: Fujitsu Europe have just announced the same CULV ultraportables as the Lifebook P3310, which will arrive in Europe, Middle East and Asia from November 9th in Ruby Red.  A second version, with 3G/UMTS connectivity, will arrive from November 23rd in black and silver.  Full press release after the cut.
There's also 2GB of RAM, a 320GB hard-drive, WiFi b/g/n and Bluetooth 2.1+EDR as standard, together with Windows 7 and three USB 2.0 ports.  Other connectivity includes VGA, ethernet, a multiformat card reader and audio in/out.  The whole thing weighs 1.6kg.
Two batteries are on offer, with the dual-core Fujitsu FMV LOOX C/E70 having a pack rated for up to 9.2hrs runtime, while the entry-level FMV LOOX C/E50 gets a smaller pack good for 6.2hrs.  Pricing is just under 100,000 Japanese yen for the C/E70 ($1,113) while the C/E50 comes in at around 80,000 yen ($890), which is on the expensive side; they'll launch in Japan on October 29th and 27th respectively.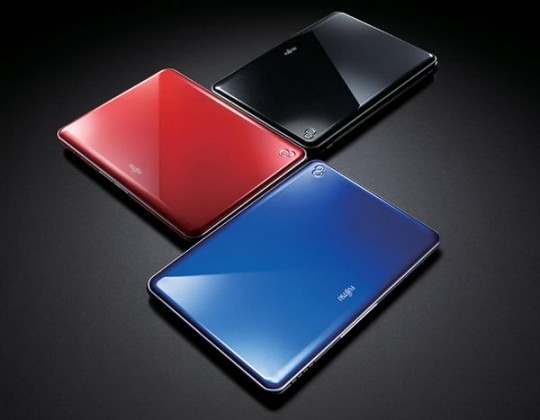 Press Release:
Sleek Design and Value in Fujitsu's LIFEBOOK P3110

Appealing design, connectivity and energy-saving components set LIFEBOOK P3110 apart

Munich, October 13, 2009 —

Fujitsu today announces availability of the new LIFBOOK P3110, a sleek, ultra-thin notebook delivering the perfect balance of style and performance. Well equipped for on-the-go computing, the LIFEBOOK P3110 offers an expanded screen width but is light enough to carry all day. Further attractive features are its long battery life and energy-efficient LED backlight display, perfect for working outdoors.

The LIFEBOOK P3110 has an appealing design with a premium high-gloss, scratch-proof lacquer coating, available in black, ruby red and silver. Weighing in at just 1.6kg, the LIFEBOOK P3110 offers comfortable working. With its high resolution 16:9 aspect ratio screen measuring 29.5cm (11.6 inches), the display fits both the regular field of vision and the original DVD format. An expanded screen width provides more real estate for running multiple applications, tool bars, gadgets and instant messaging.

Constructed from environmentally-friendly components with an ultra-low-voltage Intel® processor, the LIFEBOOK P3110 continues Fujitsu's long-standing commitment to green IT and meets the demands of environmentally-conscious users. The energy-efficient LED display maximizes battery life and efficiency, meeting ENERGY STAR® 5.0 requirements. Total battery life of approximately six hours maximizes convenience for travelers who may have limited access to power.

The LIFEBOOK P3110 is well connected, making it easy to get online anywhere, anytime, even at locations where wi-fi is unavailable. Integrated pre-n WLAN, Bluetooth and an optional embedded 3G/UMTS module ensure constant connectivity, while integrated Bluetooth wirelessly synchronizes data between the LIFEBOOK and handheld devices. Sound and vision is also built-in, with the integrated 1.3 megapixel webcam and array microphone making the notebook perfect for video conferencing and internet calls.

Rajat Kakar, Vice President Clients Group at Fujitsu Technology Solutions says: "The LIFEBOOK P3110 is the perfect traveling companion. Its stylish design, long battery life, energy efficiency and built-in connectivity make it a must-have notebook for users who want mobility at a good value. There's something for everyone in Fujitsu's portfolio; our LIFEBOOK P3110 shows that our notebooks can be as individual as our users."

The LIFEBOOK P3110 (the ruby red edition, without 3G/UMTS), is available across EMEA as of November 9, 2009. Black and silver models, and 3G/UMTS options are available from November 23.
[via Netbooked]