Fujitsu FLEPia color e-newspaper trialled in Japan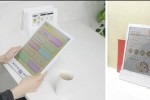 All that Amazon Kindle 2 and Plastic Logic news yesterday managed to distract us from something potentially even more exciting: Fujitsu's first public trials of a color e-newspaper called the FLEPia.  Running since February 4th, and scheduled to go on until the end of this week, the trial saw four of the devices – which use color epaper – left for customers at a Tokyo restaurant.  Each has a "BB Mobile Point" wireless LAN connection to regularly update.
Battery life, despite the regular use, is good enough to only demand a recharge in the evening once the cafe is closed: up to 50hrs we're told.  As with other epaper devices, the FLEPia only uses power when changing the displayed image, not to maintain it.  Current content includes newspaper articles and train timetables, with the FLEPia automatically changing to show adverts when not being used.
The hardware – which currently costs around $900 – is only 12mm thick, and has both WiFi and USB 2.0 connectivity.  There's also an SD slot, stereo speakers and a touchscreen for navigation.  The FLEPia runs Windows CE, and the display is up to three times larger than that of the Kindle 2.  Fujitsu is apparently looking into commercial viability in cafes and restaurants, where the upfront cost would be subsidized by adverts.
[via Fast Company]