Fujitsu F-04B modular cellphone with pico-projector gets played with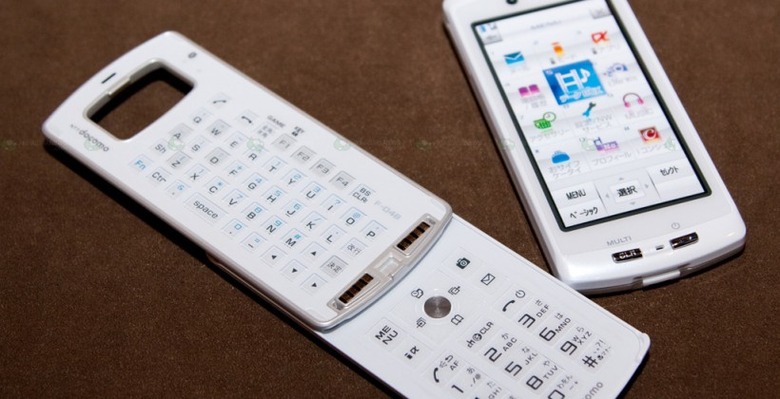 If you thought you'd seen it all in Nokia's Vision of 2015 video, book a flight to Tokyo and stop by Fujitsu's offices there.  They haven't seen to have got the memo that modular, wirelessly-connected mobile phones with integrated pico-projectors are meant to be the stuff of futurology, not fact, and as such have produced a working version of their F-04B cellphone.  Akihabara have been for a play, and claim it's a brilliant multifunctional device.
The core F-04B splits into two sections, a touchscreen part and a QWERTY keyboard, with the two linked via Bluetooth and functional either as a combined slider device or separately.  That makes everything pretty bulky – and Fujitsu's touchscreen doesn't get the highest marks – but there's still space for a 12.2-megapixel camera, 1-Seg digital TV.
As for the 854 x 480 pico-projector, that clicks on in place of the keyboard section, which then doubles as a remote-control.  We're not sure when our Japanese friends will be able to pick one up, but it seems like Fujitsu really do intend to launch the F-04B to the market.
[via PHONE Magazine]