Fujitsu Esprimo X913-T multitouch Windows 8 AIO packs ultrasonics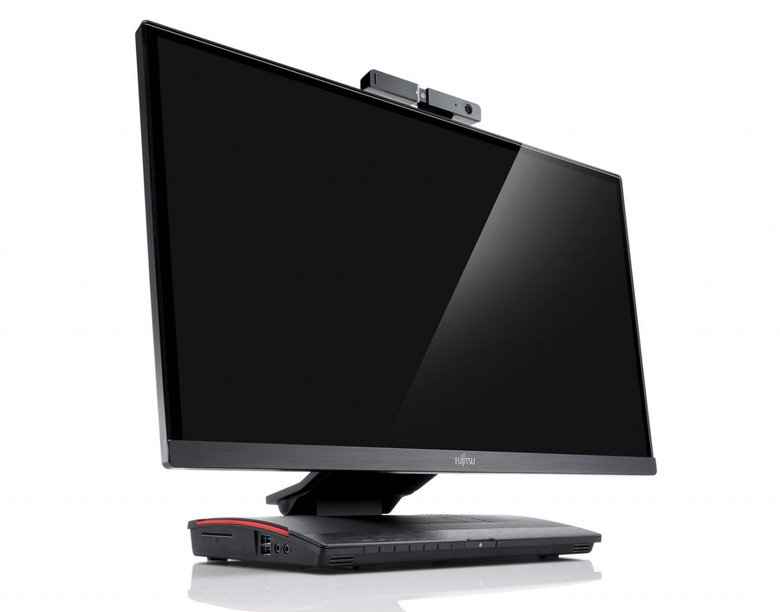 Fujitsu's Windows 8 touchscreen strategy isn't solely centered on tablets; the company also has a 23-inch all-in-one PC, the Esprimo X913-T, which uses ultrasonics to figure out if you're paying attention. The desktop offers Intel Core i3-3220T or Core i5-3470T processors and up to 16GB of memory, as well as a 1920 x 1080 display with 10-point multitouch for navigating through Windows 8's Live Tile UI.
Storage is courtesy of up to a 750GB 5,400rpm HDD, or alternatively a 320GB 7,200rpm drive or 128GB SSD, with Intel HD graphics. Connectivity includes audio in, audio out, four USB 3.0, two USB 2.0, DVI, and gigabit ethernet, with WiFi an option along with a webcam and microphones.
As for the ultrasonics, Fujitsu has equipped the Esprimo X913-T with a sensor that uses reflected soundwaves to figure out if there's someone in front of the screen. Then, like Samsung Smart Stay on the Galaxy S III, the display stays active even if nobody touches the keyboard, mouse, or touchscreen, but automatically locks when the user moves away. Facial recognition with the webcam can speed up the unlocking process too.
The 23-inch display is posable, and can be laid completely flat for those times you want to pretend you have a SUR40 multitouch table. No word on pricing at this stage, but Fujitsu says the Esprimo X913-T will go on sale from Windows 8's launch next week.