Fujitsu AMILO Sa 3650 ultraportable with external GraphicBooster video card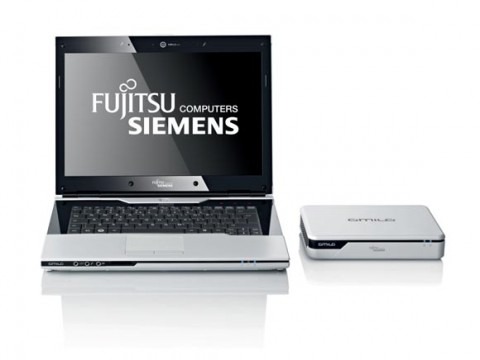 Fujitsu have announced their latest ultraportable, the 13.3-inch AMILO Notebook Sa 3650, and its external video companion, the AMILO GraphicBooster.  Offering up to 470-percent increased graphics performance, the GraphicBooster is an external ATI Mobility Radeon HD 3870 graphics card with 512MB memory, DVI-I and HDMI outputs, and two USB 2.0 connections.
Meanwhile the AMILO Notebook Sa 3650 has an AMD CPU and up to 4GB of RAM, WiFi draft-N, Bluetooth 2.0 and ATI Radeon HD 3200 on-board graphics.  It weighs 2.4 kilos and has an integrated DVD burner, DVI-I, eSATA, USB 2.0, and a 15-in-1 card reader.  Battery life is up to 4.5hrs.
The AMILO GraphicBooster measures just 18 x 13 x 3.35cm and weighs 0.5kg.  Altogether up to three external monitors can be connected at once.  The pair will begin shipping in December 2008, price as yet unknown.
Press Release:
The dynamic duo from Fujitsu Siemens Computers

AMILO Notebook Sa 3650 and the GraphicBooster open up a completely new world of graphics and mobility

With up to 470% increased graphics performance the AMILO Notebook Sa 3650 is the perfect partner for anyone who needs high graphics performance and yet does not lose out on mobility. This is achieved with one of the world's first external graphics solutions from Fujitsu Siemens Computers. The IT infrastructure provider offers with the AMILO GraphicBooster and the AMILO Notebook Sa 3650 a power duo leaving nothing to be desired: small, smart, powerful and stylish! With dimensions of just 18 x 13 x 3.35 cm and weighing only 0.5 kilos the graphics sensation owes its performance to the ATI Mobility Radeon™ HD 3870 graphics card with a 512 MB dedicated graphics memory. 3D games, HD video and HD image processing are child's play for the AMILO Notebook Sa 3650. It is also possible to connect up to three monitors. The GraphicBooster has both a DVI-I and a HDMI and the AMILO Notebook Sa 3650 has a DVI-I connection. Wireless keyboard and mouse can be used with the two USB 2.0 ports in the small power package. The AMILO Sa 3650 and the AMILO GraphicBooster will be available at specialist retailers from December 2008.

"We want to offer our customers state-of-the-art technology not for technology's sake but to add value", explains Hartmut Woerrlein, Senior Director Consumer Notebooks at Fujitsu Siemens Computers. "With the development of the GraphicBooster with our partner AMD we are meeting our customers' requirements for flexibility and high performance: small and versatile in combination with high performance."

However, the AMILO Notebook Sa 3650 stands out even without its partner. In addition to state-of-the-art AMD processor technology and a main memory of up to 4 GB, this small powerhouse also offers integrated draft-n WLAN, integrated Bluetooth 2.0 and, thanks to the ATI Radeon HD 3200 on-board graphics, a battery life of up to 4.5 hours. Supplemented by the 13.3-inch form factor and weighing only 2.4 kilos the AMILO Notebook Sa 3650 lets you rediscover mobility. Features, such as the SATA SuperMulti-Format DVD writer with Double Layer support, the spill-proof keyboard as well as numerous interfaces, e.g. DVI-I, eSATA, USB 2.0, and a 15-in-1 card reader, make the AMILO Notebook Sa 3650 a "must" for everyone who wants to see successful design combined with state-of-the-art technology. The handy featherweight and its partner, the AMILO GraphicBooster, are launched onto the market in the new design of Fujitsu Siemens Computers.

"The GraphicBooster is a truly revolutionary solution, offering incredible versatility and scalability by allowing notebooks to switch between everyday computing and hard-core gaming with a simple plug-in that's portable enough to enable powerful 3D performance on-the-go," said Ian McNaughton, Senior Product and Platform Marketing Manager, AMD. "Powered by ATI Mobility Radeon™ HD 3870, the GraphicBooster redefines what mobile graphics is all about, allowing users to choose notebooks with slim, lightweight designs, yet enjoying the superior performance of a traditional desktop gaming rig wherever it's convenient, with outstanding mobility and battery life. The combination of the AMILO Notebook Sa 3650 and the GraphicBooster make this an industry-changing solution."

Whether you are a gamer on your way to a LAN party or a design student needing a notebook for university but at home full graphic performance: Weighing just under 3 kilos all in all, scarcely bigger than a handbag yet with the full graphics performance of a conventional high-end PC, this dynamic duo becomes the ideal travelling companion – not only for students or gamers but for everyone who uses a notebook but not want to despite with the performance of a desktop PC.

For more information about the GraphicBooster see www.graphicbooster.com

For more information about the AMILO Notebook Sa 3650 see http://www.fujitsu-siemens.com/home/products/notebooks/amilo_sa_3650.html