Fujitsu AMILO Pi 3560 and 3660 HD notebooks outed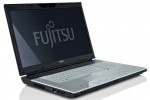 Fujitsu have outed two new notebooks, the AMILO Pi 3560 and 3660, with optional Blu-ray, HDMI connectivity and NVIDIA GeForce GT240M 1GB graphics.  The AMILO Pi 3560 has a choice of 15.6 or 16-inch 16:9 LED-backlit displays, while the AMILO Pi 3660 has an 18.4-inch 16:9 display; both have standard WiFi b/g/n and Bluetooth.
There's also a 1.3-megapixel webcam, microphone array and eSATA port, together with a spill-proof keyboard.  Each uses an Intel Core 2 Duo processor with up to 8GB of RAM and a choice of 320GB or 500GB hard-drives.  Connectivity includes an S/PDIF port and 5-in-1 memory card reader.
There's a particular Fujitsu "style" at the moment for its notebook range, and you either love it or you hate it.  We're not sure how much the two AMILO Pi notebooks retail for as yet; we'll update once we hear back from Fujitsu.
Press Release:
Boundless Widescreen Entertainment with Fujitsu AMILO Pi 3560/3660

Elegant high performance notebook provides maximum multimedia experience on the move

Munich, October 07, 2009 —

Fujitsu today announces the AMILO Pi 3560 and 3660 notebooks, enabling clients to experience their films, photos, social networking, and games in stunning quality on a brilliant widescreen display, whenever and wherever they want. The entertainment action can also be enjoyed and shared with friends and family on a big Plasma-TV screen, with an optional Blu-ray Disc™ drive that easily integrates with other home entertainment devices via HDMI. Integrated Bluetooth provides connectivity and convenience for work and travel.

Whether for work, communication, or to enjoy a favorite game or movie in High Definition quality with friends, the AMILO Pi 3560/3660's high performance NVIDIA® GeForce® GT 240M graphics card with 1 GB DDR3 dedicated video memory provide pin-sharp pictures and a brilliant color display. The BrilliantView display with 16:9 widescreen format delivers true-to-life DVD movies in all their widescreen glory. The expanded screen width allows more display space for multiple applications, tool bars, vista gadgets or instant messaging. An integrated 1.3 megapixel webcam and built-in digital array microphone are perfect for video conferencing and Internet telephony (VoIP), making communication clear and easy.

The AMILO Pi 3560/3660's outstanding viewing quality is matched by its convenience and superb visual design, including a premium high-gloss material finish and patterned palm-rest. A spill-proof keyboard protects the notebook against accidentally spilled liquids, providing time to shut down and save data if necessary. Integrated pre-n WLAN with the fastest transfer rates and an extended range, along with integrated Bluetooth, provide mobile computing independence to go online or synchronize your notebook calendar and your mobile phone, no matter where you are. External Serial Advanced Technology Attachment (eSATA) provides superfast data transfer. Silent mode function creates a comfortable work environment.

Both AMILO Pi models have 16:9 widescreen format, HD quality display and high performance graphics, but offer two choices for size. The AMILO 3660 has a 46.7 cm (18.4-inch) HD display, while the AMILO Pi 3560 has a 39.6 or 40.6 cm (15.6 or 16-inch) HD display. The AMILO Pi 3560 also offers an energy-saving LED backlight display technology, providing high contrast, crisper images and increased color depth, even when working outdoors.

Rajat Kakar, Vice-President Clients Group at Fujitsu Technology Solutions says: "Fujitsu offers a broad portfolio covering the needs of every type of user. The AMILO Pi 3560/3660 is perfect for work or play, particularly for multimedia and entertainment use, either on its own or as a key element of a home entertainment network."