Fujitsu 22-inch Wireless Displays cut all the cords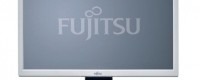 Fujitsu has unveiled what the company is calling the "world's first truly wireless display," using a combination of cable-cutting wireless data and an inductive power system. Set to go on show at CeBIT 2011 this week, and expected to spawn commercial displays "within the next year," the Wireless 22-inch Fujitsu screens use SUPA (Smart Universal Power Access) hotspots built into desks, countertops and office panels.
SUPA has been co-developed with The Fraunhofer Institute, and basically works in a similar – but higher-power – way to your electric toothbrush or Palm Touchstone. Outwardly invisible, the magneto-induction transmitter antennas allow for "park and play" computing, with a single display toted around to different rooms or cubicles.
As for the data, in the proof-of-concept that's served with a wireless USB system with a roughly 10m range; hopefully that could be boosted to support whole-house (or office) range in the commercial versions. No word on pricing or specific availability at this stage, nor official photos of the system.
Press Release:
Fujitsu Shows World's First Truly Wireless Display at CeBIT

Award-winning breakthrough power innovation consigns cables to the display technology history books

Munich/Hanover, February 28, 2011

Fujitsu today announces that it is showing a working design study of the world's first truly wireless PC display at CeBIT 2011, which takes place in Hanover, Germany, from March 1-5. The leading European IT infrastructure provider expects that commercial wireless display models featuring the breakthrough innovation SUPA (Smart Universal Power Access) technology will go into production within the next year.

Incorporating wireless power technology developed by The Fraunhofer Institute and partners within a German research project funded by the German Ministry for Economic Affairs, the Fujitsu proof-of-concept display is completely portable, cable-free, and the world's first display using wireless to provide both the power and the signal for the screen. The technology paves the way for "park and play" computing, where displays are powered simply by being placed on a desktop or conference table hot-spot.

Wireless 22-inch Fujitsu displays are powered by SUPA technology (Smart Universal Power Antenna), drawing power via magneto-induction from transmitter antenna that can be built-in to desks or office panels. The smart-power antenna is concentrated on a hot-spot and the technology is completely safe, just like induction-based kitchen hobs and electric toothbrush chargers. The display receives picture images via wireless USB from a desktop or notebook, with a range of up to 10 meters.

At CeBIT, a futuristic office desk featuring the wireless display, designed by the furniture company Euskirchen, will receive a Universal Design Award 2011 . The Consumer Favorite category award will be handed over at 12:00 on Wednesday, March 2, at CeBIT in hall 19.

Says Rajat Kakar , Senior Vice Pr esident Workplace Systems at Fujitsu Technology Solutions: "We are planning to introduce the first models incorporating totally wireless power technology to our LED-backlit display range within the next year. This is another technology innovation from Fujitsu, following on from our 0-Watt PCs and displays. In operation, there's no difference in quality from the desktop image – except that we've consigned cables to the history books of display technology."

Pricing and regional availability for the truly wireless Fujitsu displays is still to be determined and will be revealed at the commercial product launch.

CeBIT visitors will find the wireless displays on the Fujitsu booth in the Dealers Only section (hall 15, booth F15).