Fujifilm X-E2 digital camera image leaks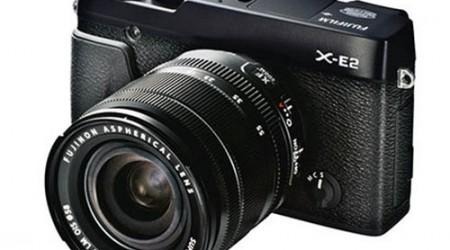 This has been a busy week in photography with the unveiling several new digital cameras. Earlier this morning we mentioned that Nikon had unveiled a new D5300 DSLR. Panasonic also went official with its DMC-GM1 mirrorless digital camera. Something else has surfaced on the camera front this morning in the form of a leaked image claiming to be of the Fujifilm X-E2.
The image shows a camera with a retro design, a hot shoe on top for accessories, and what appears to be a pop-up flash. The camera also has several knobs for manual control and a 18-55 mm Fujinon Aspherical lens with optical image stabilization.
The camera has been rumored to include Wi-Fi and feature a high-quality autofocus system. The camera is also rumored to have a three-inch LCD and a 16-megapixel image sensor.
Rumors also suggest the camera has improved video mode with manual controls. The autofocus speed is tipped to be in the area of 0.08-second. Rumors continue to suggest that the official announcement for the camera will happen this week.
SOURCE: Digicame-info