Fujifilm X-A10 mirrorless camera features 180-degree slide-tilt rear LCD and 16.3MP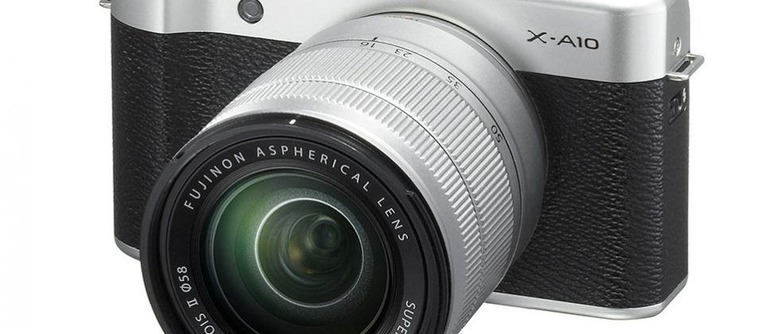 Fujifilm has pulled the wraps off a new digital camera called the X-A10 and it is a compact mirrorless interchangeable lens offering. One of the unique features of this camera is that the rear LCD has a slide-tilt mechanism that allows 100% visibility when the panel is tilted 180-degrees. What that means is that the LCD can be viewed from the front of the camera for self portraits.
Fujifilm shapes the grip of the camera so that it is easy to use in normal shooting and selfie modes. In selfie mode, users can focus and release the shutter by pressing the vertical command dial below the index finger. Tilting the LCD up also activates eye detection AF to focus on the eyes of the subject. The X-A10 has a 16.3MP image sensor that works with Fujinon lenses are ideal image resolution and proprietary color reproduction.

Fujifilm promises that the X-A10 can capture premium image quality in any shooting condition. The camera is packed into a compact and lightweight body that has a retro design. It uses two Command Dials letting you quickly adjust aperture, shutter speed, and exposure settings. Functions that users need access to frequently like white balance, continuous shooting, and the self-timer can be assigned to stand alone function buttons. Using those stand alone buttons means no need to dig through menu screens to find the settings.
The X-A10 also inherits some of the popular features from the X-A2 digital camera. It can shoot 410 images on a single battery. It can be fitted with a standard zoom kit lens of XC16-50mmF3.5-5.6 OIS II flavor. The camera has a minimum working distance of 7cm from the front edge of the lens for macro photography.
Full HD video can be recorded and the image stabilization feature with both optical and electronic stabilization works with video recording. The camera also has wireless functionality to work with smartphone and tablets for remote shooting. The wireless transfer feature lets you move images from the camera to the mobile devices without a WiFi network. Pricing and exact availability are unannounced.
SOURCE: Fujifilm