Fujifilm S-Series super-zooms get up close with 14MP & 720p HD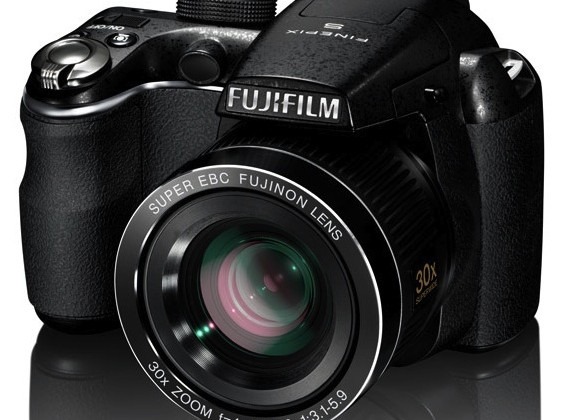 Fujifilm has announced a new range of super-zoom bridge cameras in the company's S-Series line-up at CES 2011, including the new FinePix S3200, S3300, S3400 and S4000, and the 18x FinePix S2950. All five cameras have 14-megapixel CCDs, 3-inch preview displays and can record 720p 30fps HD video.
The S3200 has a 24x optical zoom, the S3300 a 26x, the S3400 a 28x and finally the S4000 has a 30x zoom; the latter has a full 45 steps in its zoom action, for smoother footage. There's mini-HDMI connectivity, dual-image stabilization, face detection and recognition, and smile/blink shoot functionality.
The Fujifilm S2950 will be available later in January 2011 for $229.95. The other S-Series models will arrive later in Q1 2011, priced from $249.95 for the S3200 through to $279.95 for the S4000.
Press Release:
A whole host of new super-zoom bridge cameras from Fujifilm
January 5, 2011

Fujifilm announces today that its S-Series long-zoom "bridge camera" range is being extended to include four new super-zoom models. Highly regarded for their ease-of-use and compact nature, and featuring sought after EVFs; the new additions to the bridge camera line-up have tele-photo capabilities ranging from an impressive 24x zoom to a huge 30x zoom.

The NEW S3200, S3300, S3400 and S4000 cameras all boast high resolution 14 megapixel CCDs, award winning Fujinon optics, 24 mm wide-angle lenses, are intuitive and easy to operate and are packed full of useful features and technologies. With bright 3.0" LCD screens (460K dot resolution on the S3400 & S4000 and 230K dot resolution on the S3200 and S3300), Fujifilm's new bridge camera range has a lot to offer.

Electric powered Fujinon zoom lenses

The main differentiator between each of the new bridge cameras is their zoom capabilities:

S4000 30x (24 – 720 mm) 3.0" LCD (460K resolution)

S3400 28x (24 – 672 mm) 3.0" LCD (460K resolution)

S3300 26x (24 – 624 mm) 3.0" LCD (230K resolution)

S3200 24x (24 – 576 mm) 3.0" LCD (230K resolution)

With its mega 24 mm wide-angle to 720 mm telephoto lens, the S4000 can capture anything from a stunning landscape to a 30x zoom of a giraffe on a safari, and you can take these two very different shots within seconds of each other. It's flexible, and in comparison to someone carrying a D-SLR, you're able to react quicker and have to carry much less bulk.

Fujifilm's attention to detail is evident in the electric powered zoom lever which is perfectly located next to the shutter button and is very simple to operate. For S4000, the lens zoom has 45 different steps for you to stop while zooming so you can enjoy the smooth operation. With the promise of world renowned high precision Fujinon optics in all 4 models, you can rest assured that your photos are in excellent hands.

Dual Image Stabilisation

Even at the longest zoom settings or in the most challenging of lighting conditions, Fujifilm's S series cameras are able to produce pin-sharp results. With its mechanically stabilised 14 megapixel CCD sensor, and high ISO sensitivity settings, Fujifilm's Dual Image Stabilisation technology combines to reduce the blurring effects of both hand-shake and subject movement to provide superb pictures.

Stunning panoramic shots

Create your own panoramic pictures simply and easily. Just select Panorama mode and you will be directed to take three successive shots with a helpful tool which automatically releases the shutter once the images are fully aligned to seamlessly stitch the shots together in-camera. You'll be amazed at the results!

Take your own HD Movie

All the S series cameras capture Full HD photos and 720p HD movies (30 fps). These can be played back in all their glory on any HDTV — once you've seen your home movies on the big screen, there's no going back — it's just not the same on a PC! All the S series cameras feature a mini HDMI port so you'll just need a HDMI*1 cable to connect to the HDTV and you'll be all ready to enjoy your photos in the comfort of your sitting room.

*1 Mini HDMI cable required (not included)

Face Recognition and Image Searching

Ever find it impossible to find the photo you are looking for amongst the hundreds of photos on your memory card? Fuji's Face Recognition tool allows you to enter up to 8 people as "favourites". This allows you to "tag" them by name and the camera will automatically register when you are taking a photo of any of your favourite people. In turn this allows you to search for all your pictures of any of these people, by name, using the Image Search function.

This works in the same way for other categories of photo: the camera's Auto Scene Recognition technology registers whether you've taken a picture of a person, or a landscape, or if it's a night shot or macro shot, so you can filter your search by subject matter or even date & get straight to the photo you are after, quickly and intuitively. It's a great time saver!

Social Networker?

If you happen to be one of the millions of people worldwide that is into Facebook, then this could be the tool for you! Fujifilm's easy-web-uploader allows you to decide in-camera which photos and videos you want to post on-line. You can tag them for Facebook and YouTube and then as soon as you connect to a PC and launch MyFinePix Studio software it will automatically upload your photos. Perfect for when you're travelling, it saves the hours spent trawling through your photos on your PC to remember which ones you wanted to share with your friends and family.

Key features at a glance:

14 Megapixel CCD

24 mm wide-angle-super zoom lens

Dual Image Stabilisation

3.0" LCD screen

EVF (200K dot resolution)

Full HD stills and 720p HD movie capture (30 fps)

HDMI port for easy image display on any HDTV

Up to ISO 6400 (at reduced resolution)

Easy web upload to Facebook and YouTube

Face Detection with Blink detection and Smile and shoot mode

Face Recognition technology

SR Auto (Scene Recognition Auto)

Full Manual Controls

Tracking AF

Motion Panorama mode

Intelligent Flash

Image Search function with Photobook assistant

Auto Rotate

4 x AA batteries
Press Release:
A new 18x zoom bridge camera is announced by Fujifilm.
January 5, 2011

Following on from the success of the FinePix S2800HD, the S2950 will be available from Spring 2011. This is the latest addition to Fujifilm's S-Series long-zoom range of "bridge cameras" which are renowned for their ease-of-use and excellent tele-photo capabilities — all packaged up in a neat compact shell and with the added bonus of an all-important EVF.

With a generous 18x Fujinon optical zoom lens, the S2950 really packs a punch, especially when matched with its 14 megapixel sensor, large 3.0" LCD screen and 720p HD (30 fps) movie capture.

Electric powered Fujinon 18x zoom lens

The S2950 sports an impressive 28 mm – 504 mm*1 high precision Fujinon optical zoom lens. Simple to operate with an electric powered zoom lever, the huge zoom range means that you can capture all the detail, even when you're at a considerable distance away. You can even operate the zoom during shooting the movie. Unlike a bulky D-SLR, bridge cameras allow you great versatility of zoom, without the hassle of carrying a bag of lenses.

*1 Equivalent on a 35 mm camera

Sharp, clear shots

Even at the longest zoom settings or in the most challenging of lighting conditions, the S2950 is able to produce crisp, clean results. With its mechanically stabilised 1/2 3", 14 megapixel CCD sensor, and high ISO sensitivity settings, Fujifilm's Dual Image Stabilisation technology combines to reduce the blurring effects of both hand-shake and subject movement to provide superb pictures.

Impressive panoramas

With its easy to use Panoramic shooting mode you can get creative on the S2950, however basic your skills, and rest assured that you will not risk shooting uneven landscapes or shaky horizons. The camera enables you to take three successive shots with a helpful tool which automatically releases the shutter once the images are fully aligned to seamlessly stitch the shots together in-camera. It's so easy and the results are impressive.

Advanced HD capabilities for Both Movies and Stills

For the complete viewing experience, the FinePix S2950 is HD enabled and can therefore play-back both HD stills (Full HD) and movies (720p) in superb quality on any HDTV. It's yet to become the standard method of viewing photos, but it's certainly not to be knocked. And given that this camera has a mini HDMI port it's very quick and easy to connect it up to a HDTV*2 and play back your photos on the big screen.

*2 Mini HDMI cable required (not included)

Frown or blink and the picture's spoilt

Not anymore! With Fujifilm's Smile and Shoot mode the camera can recognise the exact moment your subject smiles and releases the shutter only when this happens, ensuring that all your photos are happy one! Additionally the Blink Detection function warns you if any of your subjects have blinked so that you can re-take the photo if necessary.

Facebook / YouTube easy web upload

NEW in 2011 for the S series range of cameras is Fujifilm's easy web upload function. It allows you, in-camera, to tag pictures for speedy upload to Facebook and YouTube once you connect to a PC and launch MyFinePix Studio. A great time saver, it allows you to organise your photos when you're on the move!

Preserve your memories for longer by creating a Photobook!

The S2950 allows you to select in-camera the images you want to feature in your Photobook; this task is particularly simple if you have already star rated your favourite photos! You literally tag the images that you want to have in your photo book & select which one you want for the front page and then when you are ready to order the book it's a much quicker easier task. You can also simply enjoy viewing the selected images in an in-camera Photobook with pages that turn! Great fun.

S2950HD Key features at a glance:

14 Megapixel CCD

Fujinon 18x optical zoom (28 – 504 mm)

3.0" LCD screen (230K dot resolution) and EVF (200K dot resolution)

NEW Easy web upload to Facebook & YouTube

HD stills (Full HD) and 720p HD movie capture (30 fps)

HDMI mini port for easy image display on any HDTV

Up to ISO 6400 (at reduced resolution)

Face Detection with Blink detection and Smile and shoot mode

SR Auto (Scene Recognition Auto)

Full Manual Controls

Tracking AF

Motion Panorama mode

Image Search function with Photobook assistant

Auto Rotate

4 x AA batteries

110.2 (w) x 73.4 (h) x 81.4 (d) mm

341g (excluding media & battery)