Fujifilm introduces FinePix S4200 and SL240 bridge cameras

If you want to step up from a point-and-shoot but don't want to deal with the monumental task of changing lenses on a DSLR, Fujifilm's new bridge cameras may be just what the doctor ordered. The company has new two cameras on offer, the FinePix S4200 and FinePix SL240. Both cameras make use of 24x optical zoom lenses, with an DSLR inspired designs for easy handling.
Both cameras use 14-megapixel sensors and have 3-inch LCD screens for live shooting and photo playback, and there are electronic viewfinders so that budding pros can accurately frame shots. The cameras also employ Fujinon optics and image stabilization in order to correct your caffeine induced shakes, helping to keep everything nice and sharp.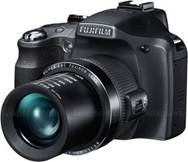 The difference between the two models seems to be how they're powered. The FinePix SL240 has a rechargeable lithium battery that's rated for up to 300 shots on a single charge, while the FinePix S4200 is powered by AA batteries. The latter is probably more handy for travellers running low on juice, while the former keeps things nice and simple.
Fujifilm says both cameras will be available in red, white, and black. The FinePix S4200 will set you back £149 (~$234), while the SL240 will command a slightly higher price of £199 (~$312). Both should be available right now.