Fujifilm FinePix XP30 packs GPS into rugged digicam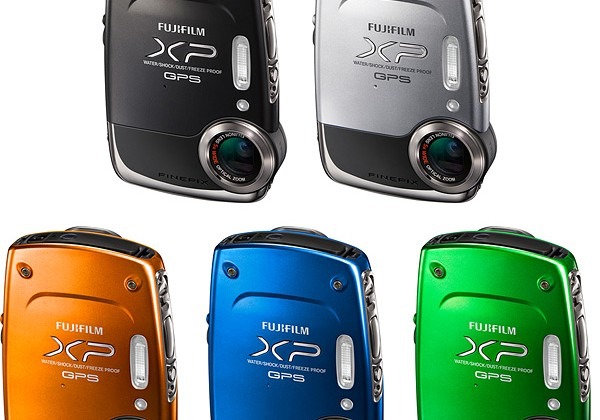 You can tell from the design that there's something different about Fujifilm's FinePix XP30 and XP20 digital cameras, and happily it's not just an aesthetic flourish. The new range is waterproof to up to five meters, resilient to drops of up to 1.5m, and freezeproof to -10 degrees centigrade. It's also dust and sandproof, and if you opt for the XP30 then you get a GPS chip to geotag your photos.
Up front is a 14.2-megapixel sensor with CCD-shift image stabilization, a 5x optical zoom, fact detection and automatic panorama functionality. On the back is a 2.7-inch LCD display. The XP30 and XP20 are capable of shooting 720p HD video at 30fps.
Fujifilm's Photobook Assist function creates travelogs of your journey, piecing together shots based on GPS location and even showing place names. The FinePix XP30 with GPS will ship in February for $239.95, while the FinePix XP20 without GPS will arrive in March for $199.95.
Press Release:
FinePix XP30 with GPS — a world's first for outdoor compacts
January 5, 2011

Fujifilm has raised the bar in the competitive outdoor compact camera sector by introducing the FinePix XP30; the world's first water, shock, dust and freeze proof model featuring built-in GPS functionality.*1

*1 Researched by Fujifilm at 5th of January

Continuing in the tradition set by the XP10 that it replaces, the FinePix XP30 offers a competitively-priced entry into the sector with a specification that will ensure outdoor-loving photographers or adventure sports enthusiasts are well catered for. In addition to GPS and its rugged build quality, the camera also features 14.2 megapixel resolution with an impressive 5 times wide zoom with optical image stabilization to shoot sharp image quality in any condition. With a FinePix XP30 in their rucksack, outdoor photographers will be able take their pictures to new heights without the steep price tag!

Pin-point your location, anywhere in the world

An increasing number of compact cameras feature GPS tagging, but only the FinePix XP30 features this type of functionality in a rugged, outdoor model. What's more, the GPS features on the camera won't only tell you where you are in the world; it offers additional functions that are essential for outdoor shooting and will make you wonder how you ever managed without them.

Locations can be displayed either as longitude and latitude or by place name. The FinePix XP30 has an embedded list featuring around half a million places of interest across the globe. When a shot is taken, the image is tagged with location information, enabling you to quickly find shots of a place you've visited. Should users then want to create a photobook of a specific location they can do so using the Photobook Assist function where you can tag images then turn the pages of the book on the camera's rear LCD.

But that's not all. If you visit a location that you want to return to but can't remember which way to go, the Photo Navigation mode is invaluable. Simply find a shot of the location and the FinePix XP30 will not only tell you how far it is from your current spot, it'll show you the direction you need to travel to get there.

For those who want to re-trace their steps and map a route of their travels, the Route Logging function is sure to appeal. The FinePix XP30 stores location data every 10 minutes*2 and, once the images are downloaded to a PC through MyFinePix Studio (bundled image viewing software), a map of the route, along with the pictures you took along the way is created using Google Maps.

*2 Anytime On or Only Power On must be selected for data to be logged.

All Japanese place names courtesy of ZENRIN CO., LTD. All other place names courtesy of NAVTEQ.

This service uses POI (Points Of Interest) of ZENRIN CO., LTD.

"POWERED BY ZENRIN" is a trademark of ZENRIN CO., LTD.

©2010 ZENRIN CO., LTD. All rights reserved.

NAVTEQ maps™ is a trademark of NAVTEQ.

©2010 NAVTEQ All rights reserved.

Proof that it's ready for anything

The FinePix XP30 is ready for anything you can throw it. Thanks to the '4 way Protection' system, you'll be able to keep taking pictures long after conventional cameras have been packed away. With a riveted front panel and rounded body shape featuring a smart two-tone design, the XP30 is:

Waterproof to 5 metres, making it perfect for underwater photography, for taking pictures in heavy rain or snow, or simply for running it under the tap when it gets dirty

Shockproof up to 1.5 metres, so it'll handle being dropped or knocked around in a trucksack

Dust / Sandproof, meaning you can take it to the beach without having to worry about the sand clogging it up

Freezeproof to −10°C, perfect for skiing, snowboarding or any other sub-zero activities

Quality optics deliver perfect pictures

Sporting a Fujinon 5x wide optical zoom covering 28 – 140 mm (35 mm equivalent), the FinePix XP30 is well equipped to deliver high quality images. In addition to the fine optical quality, the XP30 features Fuji's advanced Optical Image Stabilisation system to help combat camera shake. Pictures can be taken and still be blur-free, making it ideal for underwater and night-time shooting.

A wide range of functions for every shot you take

As well as offering all the benefits of an outdoor camera, the FinePix XP30 is also a great picture-taking machine in its own right. It boasts a full range of flash overrides, face detection for perfect portraits and a healthy selection of subject-based scene modes, which includes Motion Panorama which automatically stitches up to three shots to create panoramic picture. There's even a number of in-camera retouching functions including crop, rotate and red-eye removal.

Outdoor photographers wanting to shoot video aren't neglected either; the FinePix XP30 offers HD movie capture of 720p at 30 frames per second or conventional 640 x 480 pixel definition.

Don't want GPS? No problem

While the FinePix XP30 with its GPS features is a great camera for photographers who like to travel outdoor, Fujifilm recognises that not every user requires GPS functionality. For this reason, a second model — the FinePix XP20 — has been introduced, which offers a virtually identical specification, without GPS.

Fujifilm FinePix XP30 / XP20 key features:

14.2 megapixel resolution

GPS functionality*3

5x wide optical zoom covering 28 – 140 mm (35 mm equivalent)

CCD shift image stabilisation

2.7 inch rear LCD with 230,000 pixels

Waterproof to five metres

Shockproof up to 1.5 metres

Freezeproof to −10°C

Dust / Sandproof

Motion Panorama mode

Available in Black, Silver, Orange, Blue, Green and White*4

*3 Not available on XP20

*4 White color is not available on XP20