Fuhu nabi Jr sub-$99 kids tablet brings back the Tegra 2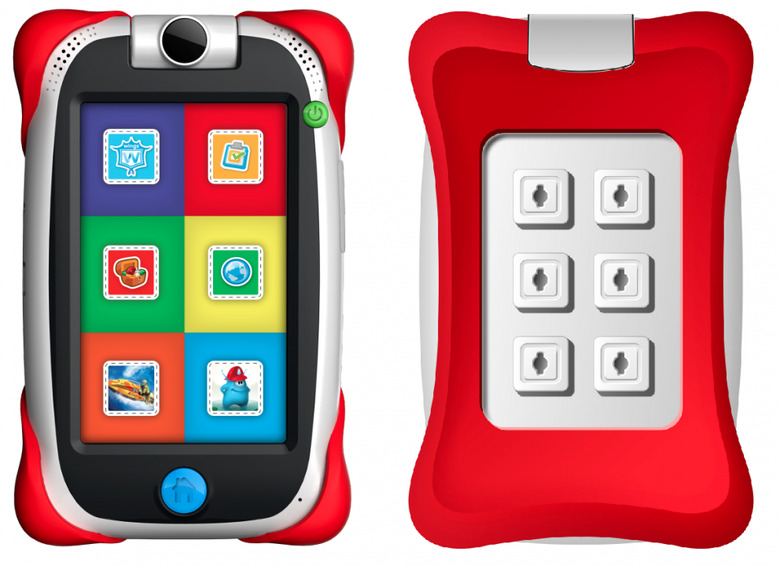 This week the folks at Fuhu have released information about their next proposed hit for the kids market in tablets – a Tegra 2 dual-core processor-toting children's tablet made to replace the original. This machine has a 5-inch display, bumpers around all the sides and some connection squares on the back (see why in our full review of the Fuhu nabi 2 to see what they're all about). This machine takes out the greater specifications of the nabi 2 (including a Tegra 3) to drive down costs – and drive them they have!
This machine comes in two flavors, the first being the $99 4GB version – that's 4GB of internal storage space, mind you, so watch out if you plan on adding a bunch of 3rd party videos to this beast. The other version will cost you $129 and has an internal storage space of 16GB. The display size is, again, 5-inches, with 800x480 pixel resolution – not the best, but certainly not the worst.
This device also offers a really strange – and awesome – rotating camera that your kids will be able to snap away with all day long. You'll be working with Fuhu's own kid-friendly app market where they can download at will. You'll also have access through the parent-secured profile on the nabi Jr to the Amazon Appstore – side-loading apps like a pro!
Again take a peek at our review of the nabi 2 to get an idea of the direction this smaller tablet is coming from. The folks at Fuhu are not messing around when it comes to presenting a kid-centric experience for your family, and this new smaller (and less expensive) version of their nabi universe might be just what the doctor ordered for your tech-friendly toddler. Check it out!