Fuel-cell powered Toshiba device could be on sale by Christmas?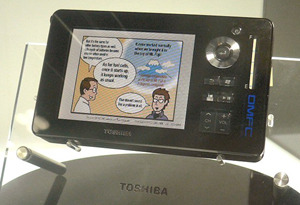 Toshiba has suggested that it may release a commercial product using a fuel-cell for power before Christmas 2008, ahead of the company's own March 2009 target for such a device reaching the market.  In an interview with Register Hardware, Toshiba's European General Manager for Computer Systems Marketing and Business Development, Thomas Teckentrup, revealed that it should only be "a few more months before everything comes together".
Teckentrup admitted that Toshiba was working through some last minute hurdles, including government regulation and methods with which fuel would be distributed, describing the situation as "very complicated" and that "there are still problems to sort out".  Nonetheless, he made the prediction that the issues would be dealt with in the short-term, not the long.
Toshiba have declined to reveal which products might be released with the fuel-cell technology.  Last year the company demonstrated an ethanol-powered PMP, and more recently a UMPC that relied on a fuel-cell for its power source.