Frozen now top-grossing animated film in history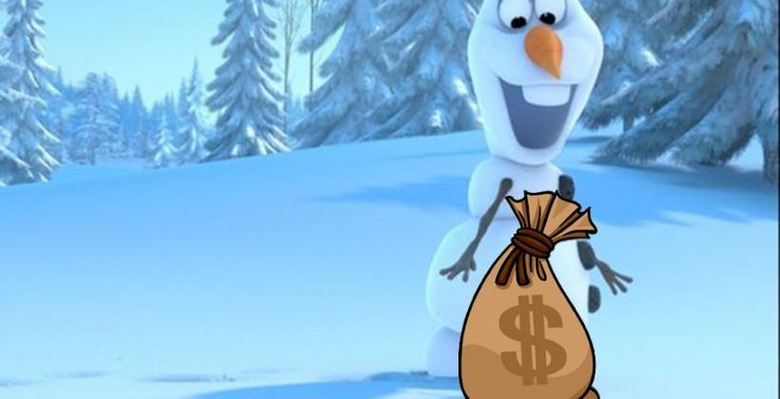 According to international box-office count, Frozen is now the highest grossing animated film of all time. It's in international markets where Disney's Ice Queen-inspired feature has reached $729.3 million, officially displacing Ice Age: Continental Drift with its record-breaker from 2012 with $715.9 million.
Frozen is also coming up on $400 million USD inside the United States according to domestic box-office counts, while it rings in as the #1 film in Japan, having recently reached $100 million in that country. Counts also show Frozen to be the third best-attended movie over the past 365 days, coming in after The Hunger Games: Catching Fire and Iron Man 3 – and catching up fast, as #1 is $424 million and #2 is $409 million.
While Frozen isn't showing everywhere at this point – it's been out since November, after all – it is still in theaters in odd locations around the world. At the start of April the film was being shown at 387 theaters, and Sunday (yesterday) it was still being shown at 290 theaters, with a daily gross of $53,808 USD. Frozen was also still ranked #23 in box-office listings as of yesterday as well.
Frozen is officially the highest-grossing film in Walt Disney Animation Studios history, both adjusted and non-adjusted for inflation. Frozen is the top-grossing Original GC Animation film in history – that meaning the first such film in a brand's history – followed by Finding Nemo, Up, Shrek, and The LEGO Movie (which is still in theaters, mind you).
VIA: Box Office Mojo