French Kindle and Amazon Kindle France store launches

We may receive a commission on purchases made from links.
Amazon has launched a French-language version of its Kindle ereader, along with a French Kindle Store to accompany it, the first time the retailer has offered a dedicated language option for the country. Priced at €99 ($133), it's the basic entry-level E Ink Kindle (complete with WiFi but no 3G or touchscreen option) Amazon launched in the US and elsewhere earlier this month.
French readers will find a choice of more than 35,000 French-language ebooks – including all 28 L'Express best sellers, Amazon is keen to point out – along with "hundreds" of graphic novels and ore than 4,000 free classics in French. They'll also have access to a catalog of English-language ebooks, while French authors will be able to use the Kindle Direct Publishing tool to put their titles up for sale as well.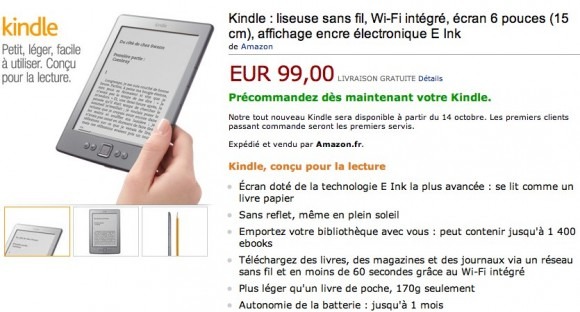 The Kindle hardware itself misses out on the keyboard of its third-gen predecessor, making do with a potentially-fiddly D-pad control system to navigate an on-screen keyboard. However it's also lighter and smaller than the model it replaces. Pre-orders for the French Kindle begin today, with the ereader expected to begin shipping on October 14.