FreedomSpot 5580 hotspot device brings LTE to FreedomPop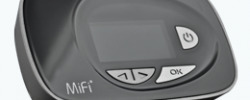 FreedomPop makes a variety of data-bringing devices and hotspots, such as the Freedom Sleeve for iPod Touch released last summer. Today it has announced the arrival of LTE broadband for its customers, and in conjunction has launched an LTE-capable device, the FreedomSpot 5580 LTE mobile hotspot. For those who nab the device, FreedomPop offers 500MB of free data per month.
The expansion of the broadband network it uses is achieved using Sprint's LTE network, so those interested in the faster data connection will need to be located in Sprint's coverage area. Those who aren't (or who hit their 4G data maximum for the month) will be switched onto a backup 3G network until an LTE network becomes available or the billing month cycles over, depending on plan.
FreedomPop offers three different monthly subscription options, the first of which is free and allows for 500MBs of 4G LTE data usage per month. Those who go over that number will be charged $0.02 per extra MB. The next package up is $3.99 per month (also $0.02/MB for overage) for "Pro 500MB" per month (4G with 3G data roaming across the nation).
The most expensive plan is $19.99 a month for "Premium 2GB"'s of data across both the 4G and 3G networks. Under this plan, extra data is priced at $0.015 per MB. As for the hotspot device itself, the unit weighs in at 3.5 ounces and supports up to 10 simultaneous devices. There's a small OLED display, GPS, and a 10 hour battery life.
FreedomPop's CEO Stephen Stokols said: "With LTE network coverage reaching critical mass, we are now able to offer our customers the fastest 4G service for free. We're taking our free Internet model to the next level, giving customers unprecedented access to the best mobile network performance available."
SOURCE: BizJournals