'Freedom Clip' gets you past Keurig's K-Cup rules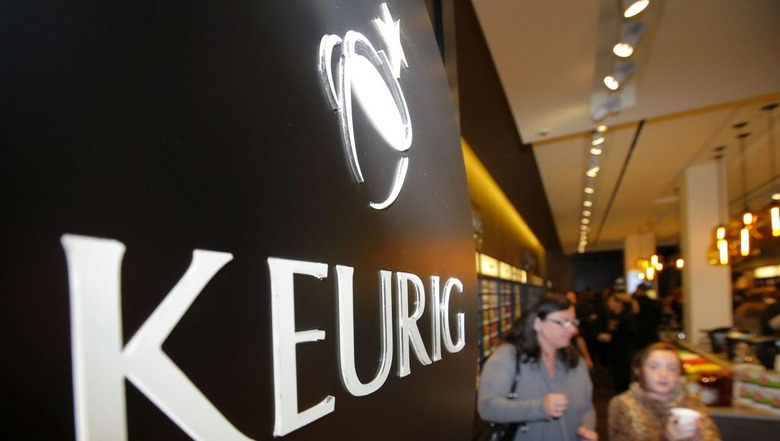 If you've recently purchased a Keurig coffee machine, you know that many third-party pods won't work in your machine. Protected by DRM, Keurig tamped the cottage industry that popped up around their machines with their latest kit, to the dismay of just about everyone. A new add-on might get you around Keurig's rules, though. The Freedom Clip snaps into your existing Keurig, and allows for those now-bootleg K-Cups to be used in your new Keurig machine.
Though plenty of hacks have been discovered for maybe getting your off-brand K-Cups to work in your snooty new Keurig, it's not foolproof. The 'approved' K-Cups have a special ink, which the machine recognizes. The Freedom Clip performs a bait-and-switch, tricking your Keurig into thinking everything is fine. Here's how Gourmet-Coffee.com, and parent company Rogers Family Company (who are responsible for the clip), describe it:
In August of 2014 Keurig Green Mountain® replaced the standard Keurig K-Cup® brewers with a new version 2.0. This new version is very similar to previous models except for ONE thing... it includes a new lockout technology that only allows "Authorized K-Cups®" to work.

It does this by visually identifying a special ink on the lidding. Any cup without this "special" ink is rejected by the machine thus ensuring Keurig's® marketplace dominance. While other companies are quickly working to adopt this special ink to their cups we at Rogers Family Company® believe that your right to choose any option is imperative.

That's why we have developed this easily installed "Freedom Clip" for Keurig 2.0® brewers. Just place the clip in your new brewer and it will see all k-cup type pods as "Authorized K-Cups®" . This clip is our gift to you. Now go forth and brew with freedom.
Next time you're standing in front of your Keurig, thinking of so many curse words because you're not enjoying your favorite non-Keurig K-Cup, keep this article in mind. Or, be pro-active and click the link below to get yourself a little freedom.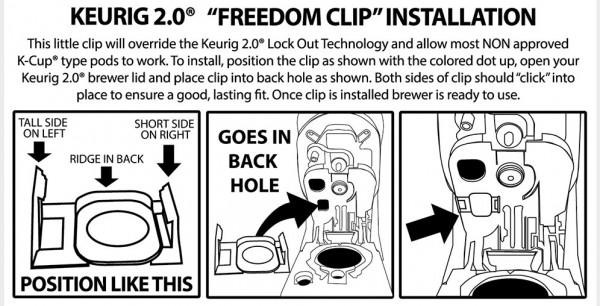 Source: Gourmet Coffee
Via: TechCrunch