Freedom 251 ultra cheap smartphone starts shipping June 30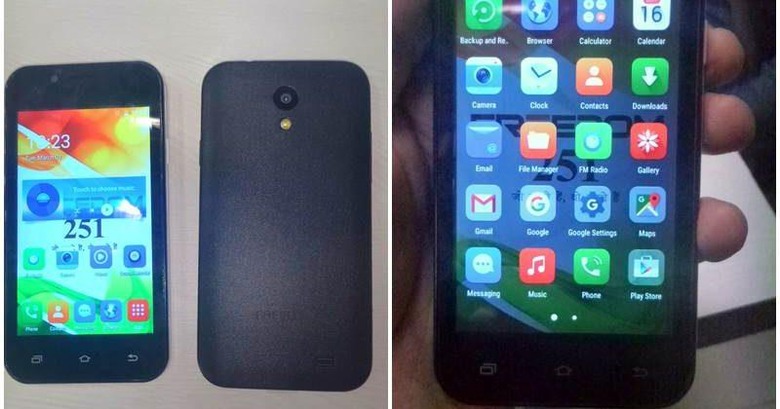 Indian company Ringing Bells is defying all odds, and possibly some lawsuits, to make good its almost too good to be true promise of a 251 Rs ($4) Freedom 521 smartphone by June 30. Or rather, as is now the case, "starting" June 30. That is what company founder and CEO Mohit Goel continues to promise, despite its super cheap smartphone being met by skepticism, accusations, and even lawsuits. Of course, it was also met by an ungodly number of pre-orders, which Ringing Bells will now have to fulfill or risk further infamy.
It's not hard to understand why the Freedom 521 garnered such publicity, both the good and the bad kind. By all accounts, the smartphone is an entry-level Android device, sporting a 4-inch 800x480 WVGA screen, powered by a 1.3 GHz quad-core processor, 1 GB of RAM, 8 GB of storage, a 3.2 megapixel rear camera and a 0.3 megapixel front shooter. The specs might not be astounding, but the $4 price tag definitely is. Goel admits that the company will be selling at a loss but plans to make up for it in volumes.
It's also natural that Freedom 521 would attract controversy and even opposition. It was sued earlier by a company claiming that Ringing Bells was simply trying to sell a rebranded version of its own smartphone. The company also faced an investigation on whether it was running a scam. Goel paints his motives as simply patriotic, aiming to connect even India's poor to the connected, digital age.
Pre-orders for the Freedom 521 unsurprisingly crashed the company's system, but not before logging in 7 crore (70 million) orders. The number of devices Ringing Bells will ship is exponentially smaller. The first batch of 25 lakh (2.5 million) units will ship starting June 30, and the company plans to ship that much every month. Later on, Ringing Bells might re-open registrations for those who still want to buy one.
VIA: The Indian Express