Fossil Gen 5 Wear OS smartwatches let iPhone users take calls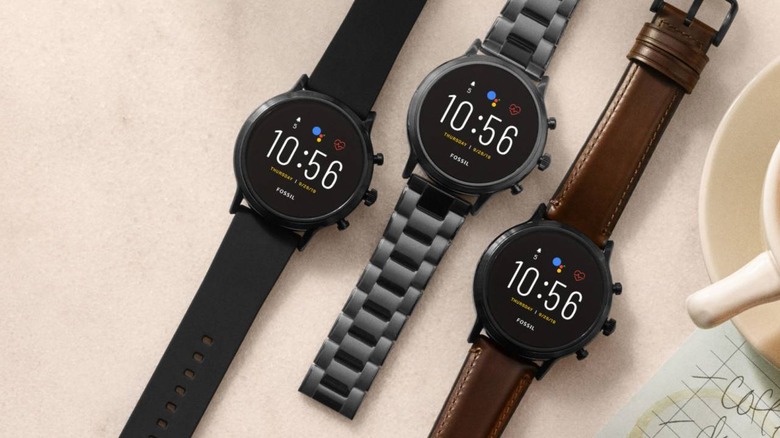 Fossil isn't giving up on Google's Wear OS, and its fifth-generation smartwatches promise to give iPhone users the attention they may have felt their Android counterparts were enjoying. The Fossil Gen 5 watches will allow iPhone users to not only see that a call is incoming, but answer it and hold a conversation through a speaker built into the smartwatch, too.
That's something Android users have been able to do with Wear OS by Google for some time, of course, but has been absent from the feature list for iPhone users. Fossil isn't sharing too many details as to how it's actually achieving this, at least not yet, but does say that it has a "proprietary app" which will arrive this Fall to enable the feature.
At the same time, Android users will also get an upgraded voice calling experience. They'll be able to more readily switch between Bluetooth devices when they're taking calls through a Fossil Gen 5 smartwatch. Regardless of your phone platform of choice, the Gen 5 watches' speaker will be "swimproof" so that not only can you still go in the shower or the pool while wearing the watch, you'll also be able to hear calls, Assistant responses, alerts, and music while doing so.
Under the hood there's Qualcomm's Snapdragon Wear 3100 chipset for Wear OS devices. That was announced back in late 2018, but is still a relative rarity on wrists. Fossil is taking advantage not only of its uptick in performance, which should make Google's OS a little more responsive, but for its battery management features too.
So, there'll be four battery modes, which Fossil will offer up a swipe away from the homescreen. They'll include Daily, Extended, Time-only, and Custom. In the Extended mode, the company claims, a Gen 5 smartwatch should last for multiple days on a single, one-hour charge, while still delivering notifications and taking heart rate measurements.
The Snapdragon Wear 3100 chipset will be paired with 8 GB of storage, double what was included in the company's last-generation models, and double the memory, bringing it to 1 GB. Fossil will be pre-installing apps like Cardiogram, Spotify, and Noonlight.
While the first Fossil-branded Gen 5 models will be arriving from today, other versions from the company's various timepiece brands will go on sale between now and the 2019 holidays. That should coincide with what Fossil describes as "a new category of hybrid smartwatches" that it's been working on. They promise functionality similar to a touchscreen smartwatch, but combined with the look and feel of a classic watch, with no sacrifice to battery life.