This has been quite the exciting week for Fortnite. Over the weekend, Epic basically hit the reset button on the game, deleting the map and leaving players staring at a black hole. The game was inaccessible for more than a day as players continued to be greeted by that black hole in-game and across Epic's social media. Then, today, Fortnite sprung back to live, with Epic kicking off Fortnite Chapter 2, which brings a new map and new mechanics along with it.
Make no mistake, this is a pretty significant update when you take count of all that's new. Not only have there been changes to the weapon system, but there have also been changes to the Battle Pass – Epic's way of monetizing progression. In short, there's a lot for players to sink their teeth into, especially if those players were feeling that Fortnite had grown stale during Season X.
READ MORE: Fortnite Chapter 2 is here and it's bigDespite this update, it was still a big risk to take the game offline for more than a day and leave players hanging, and few games aside from Fortnite could probably pull that off. That risk seems to have paid off for Epic, because here on Chapter 2's launch day, Fortnite has spiked in popularity.
At the time of this writing, Fortnite currently has 430,000 viewers on Twitch. That's slightly outpaced by League of Legends, which currently has around 475,000 viewers, but it's worth remembering that League of Legends is in the midst for its 2019 World Championship. In other words, Fortnite is giving League a run for its money during its largest tournament of the year.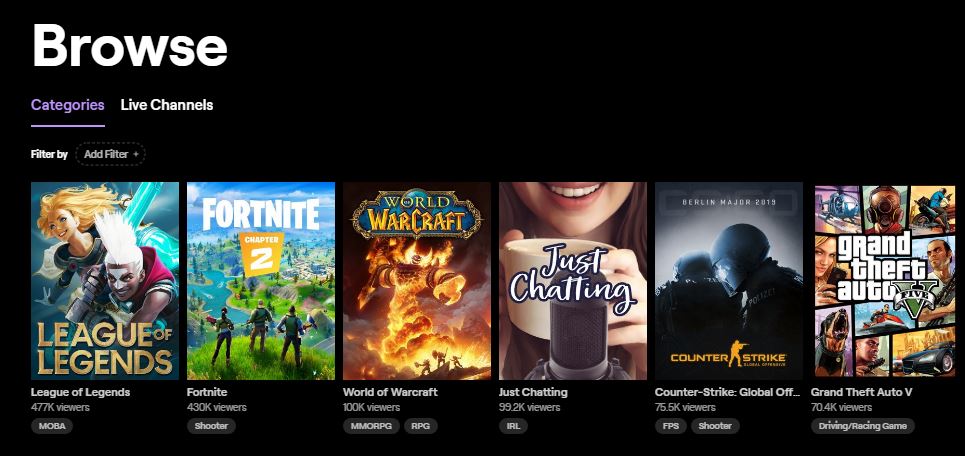 When we look at the games that trail behind League and Fortnite, it isn't even close. World of Warcraft's 100,000 viewers is enough for it to claim third place, followed closely by Twitch's Just Chatting category. Fortnite has always been a popular game on Twitch, but it's been quite some time since we last saw numbers this high, and that's made even more impressive by the fact that Ninja – once Fortnite's biggest content creator – left Twitch for Mixer back in August.
Obviously, since this is patch day, we'd expect a spike in viewers on Twitch followed by a subsequent fall off, but regardless of that, it seems those who have been waiting for Fortnite to die will have to wait a little while longer, because this new update has led to a huge spike in interest. We'll see if Fortnite can keep this momentum up in the days and weeks to come, so stay tuned for more.