Fortnite Chapter 2 Is Here And It's Big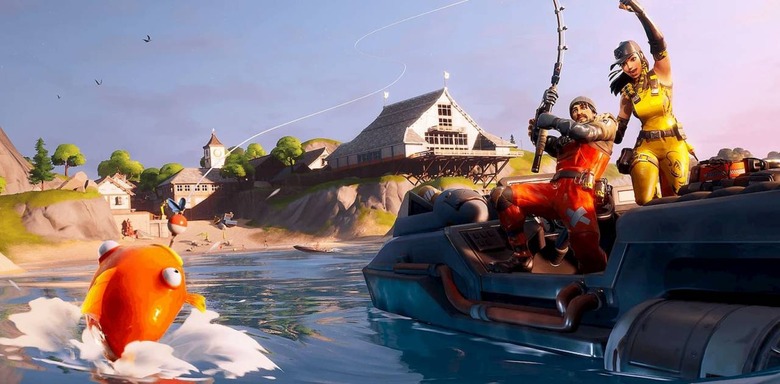 After a wait that stretched on for more than a day, Fortnite is back, and it's starting an entirely new chapter with its return. As leaks suggested before the end of Season X, Fortnite Chapter 2 is kicking off with an entirely new map for players to battle on, with new activities to participate in and new ways to fight. If Fortnite was starting to seem a little stale during Season X, the beginning of Chapter 2 might help with that.
The theme for this new map seems to be water. Not only are there boats that players and teams can use to get around in, but players can also take time out of a match to do a little bit of fishing. Judging from the trailer you see below, it seems that you can snag new weapons while fishing, so it might be worthwhile to attempt it during some downtime in a match.
Players also have new ways to support others on their team as well. The leaked trailer we saw yesterday showed players carrying downed teammates to safety, but in addition to that, there's also a new weapon called the Bandage Bazooka that can heal up others in your squad. You and your group can get the jump on enemies by hiding out in haystacks or dumpsters, and when it comes time to fight, you can shoot nearby gas tanks or explosive barrels to make your enemies feel a little heat.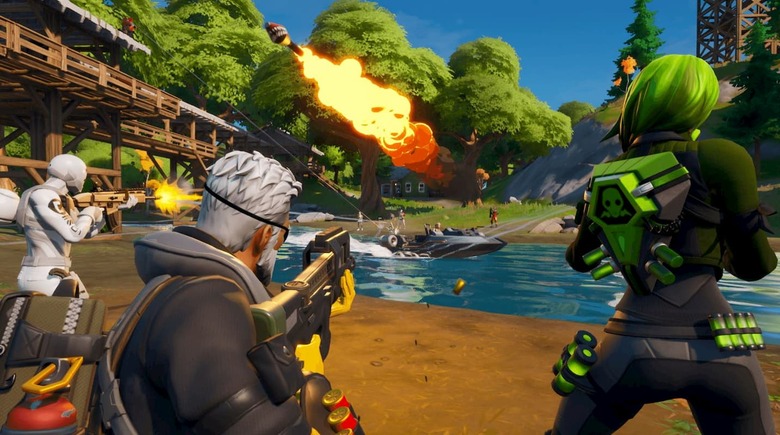 While Epic hasn't really published comprehensive patch notes for Chapter 2 – clearly preferring that players drop in and experience the new changes for themselves – it does say that it's gone "back to basics" when it comes to combat. This includes streamlining the available weapons and implementing a new upgrade system that allows players to visit an upgrade bench and beef up their weapons with the resources they've gathered.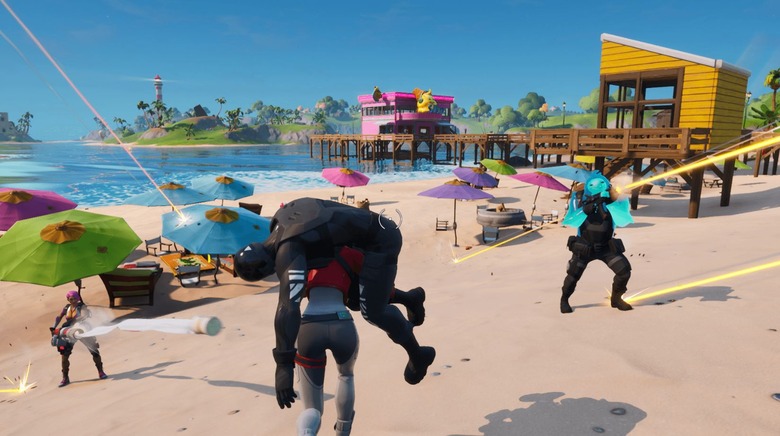 Epic is also being a little vague about what's included in the new Battle Pass for Chapter 2, Season 1, but it does say that there are seven different outfits to unlock, and that each one of those come with an "alter ego" so players can choose whether they're the hero or the villain. Epic also says that this Battle Pass should be less of a grind to level up thanks to the addition of various medals that award XP for doing things in-game, such as defeating opponents, opening chests, or completing challenges.
One thing that's sure to be a big draw for players is the fact that this new Battle Pass awards a grand total of 1,500 V-Bucks to those who complete it. The Battle Pass itself costs 950 V-Bucks, so you can make back the purchase price and have a little extra left over if you level up the Battle Pass all the way. You can also now level the Battle Pass beyond level 100, though it isn't clear if there are any new rewards for doing so.
As always, there are a variety of weapon wraps, pickaxes, back bling, dance moves, emotes, loading screens, and gliders to earn in this Battle Pass, in addition to the new skins. Epic hasn't revealed the rewards for each Battle Pass tier as it typically does, but a decent number items can be viewed over on the Fortnite site. Beyond that, though, it sounds like you'll need to dive into the game and check out what's new on your own.