Leaked Fortnite Chapter 2 Trailer Teases Big Battle Pass Changes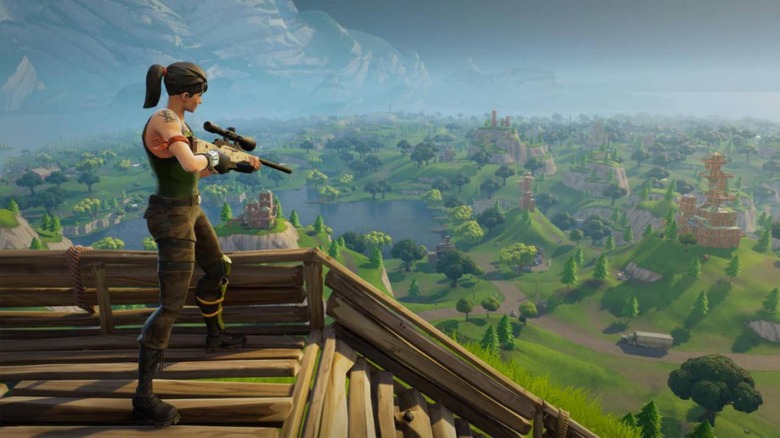 Now that Fortnite's map has been sucked into the abyss and we've been left with nothing but a black hole, we're waiting for something big to happen. Leaks that began surfacing next week suggested that Season 11 will actually be the kick off to an entirely new chapter for Fortnite, and now a new leaked trailer seems to confirm it.
Though the trailer only runs thirty seconds, there's a lot to take in. For starters, we have that rumored new map, which is home to forests, factories, waterfalls, rivers, and even what appears to be an island archipelago. With all this water comes a new way to get around in the map, with speedboats carrying groups of players across the water throughout the trailer.
The trailer also indicates that big changes are coming to Fortnite's battle pass. You'll be able to level up different medals individually as you play – we see the Scavenger, Battle, and Survivor medals in the trailer, but there could always be more that Epic is keeping under wraps for now. The trailer also suggests that players will be able to level up their battle pass beyond level 100, so those who play the game a lot might be happy to see that.
Other things that stick out from the trailer include the ability to carry fallen teammates on your back, allowing you to move them to safety before you try to heal them. Speedboat to speedboat gunfights look pretty cool, and we also see players bouncing around on pogo sticks toward the end of the trailer, another new thing for Fortnite.
Obviously, something big is on the way, but we're still waiting on Epic to reveal just what that is. Epic's black hole livestream in still up and running, and there are still tens of thousands of people watching it and waiting for something to happen. Hopefully we get some official news soon, because it looks like big changes are on the way to Fortnite.