Fortnite's Guided Missile is coming back with some big changes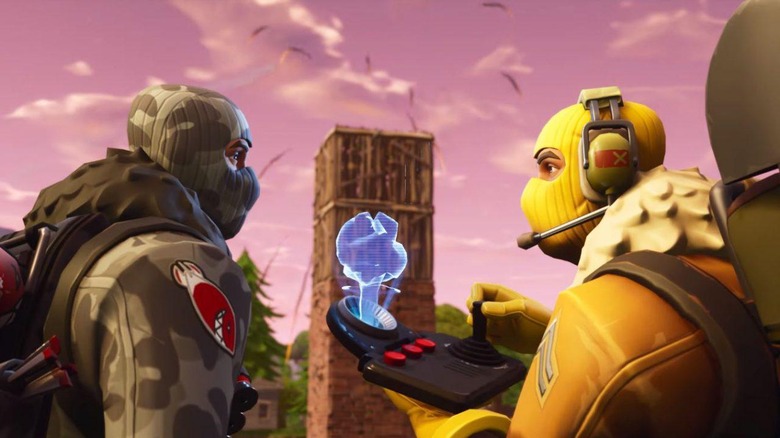 Back in March, Epic added a new weapon called the Guided Missile to Fortnite. The functionality of the weapon is obvious from the name alone, as it allowed players to shoot a rocket they could then manually guide to its destination. The weapon, players quickly found, was particularly powerful, especially in endgame situations where players tend to move around the battlefield less.
After considering fan feedback and deciding that the Guided Missile was indeed a little too strong, Epic chose to vault the weapon in the middle of April. All told, the Guided Missile was only in Fortnite for about three weeks before it was removed, and we've heard next to nothing about it since it vanished from the game. Get ready, though, because Epic has revealed that the Guided Missile will soon be returning to Fortnite.
It's not coming back at its previous power level, though. In a Fortnite Dev Diary shared to the game's official Twitter account just a little while ago, Epic's Andrew Bains says that the Guided Missile has gone through some extensive changes. Epic would like to see it used as more of a scouting tool than a high-damage offensive weapon, and these changes definitely reflect that.
This week we're talking recent SMG changes, Remote Explosives, and a returning item! pic.twitter.com/k947V9TA6L

— Fortnite (@FortniteGame) July 27, 2018
Epic has reduced the Guided Missile's damage, turn speed, damage radius, and movement speed. In other words, it's been nerfed in almost every regard, and it's going to be harder to consistently fly these missiles directly into other players. Beyond these changes, keep in mind that the Guided Missile is also restricted by Epic's cap on explosives, so you're only able to carry 12 rockets for it at a time.
Bains also talks about the recent SMG changes in his Dev Diary, noting that those changes bring all of the SMGs in Fortnite more in line with Epic's vision of a weapon that's very effective at only close range. Bains didn't say when we can expect the Guided Missile to return to the game, but we could very well see it launch as part of next week's patch. Stay tuned, because we'll update you when we have some more information.