Fortnite's guided missile has been removed from the game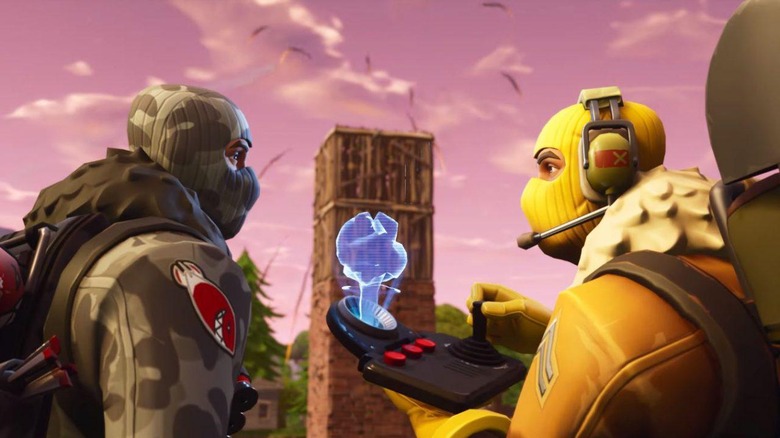 Now that Fortnite has found its (massive) audience, Epic has the task of keeping that audience interested. One of the best ways to do this is by regularly adding new weapons and items to the game, but every once in a while, a weapon that's just a little bit too powerful makes it through the cracks. Such is the case with the guided missile, which was added to the game just a few weeks ago.
As players are discovering, the guided missile isn't a whole lot of fun to play against. Since players using the guided missile take control of the projectile after it's been fired, they can guide it straight to another player's position and easily take them out of the game. The trade-off, of course, is that flying a missile to its destination is supposed to leave players using the weapon vulnerable, but to a lot of players, that doesn't seem to be enough to detract from the guided missile's strength.
So, Epic has decided to remove the guided missile from the game for now. In a Reddit post detailing a new hotfix for Fortnite, Epic explains that it's been listening to feedback about the guided missile and has decided it's best to remove and rework the weapon. "We've gotten a lot of feedback around the Guided Missile, in particular concerns over fairness and strength of the weapon," Epic writes. "We share your concerns, so we've put the Guided Missile into the vault while we figure out the next steps for its future."
This fix also slightly adjusts weapon equip delays, which were recently added as a way of preventing players from outputting a large amount of burst damage with weapons that fire slowly. Upon further inspection, Epic says, the crossbow and sniper rifle didn't really benefit from quick weapon equips in the first place, so the delay has been removed from those two. For every other weapon, however, the equip delay remains.
Finally, if you've fallen victim to a bug that has you firing into your own structures when you're trying to peek around them, then you'll be pleased to know that the issue will soon be fixed. It seems this is coming along with Fortnite's v3.5.2 update later this week, so while the guided missile should already be gone, we have a little bit longer to wait for the peeking fix. Be sure to head down to the comments section and tell us what you think of Epic's decision to remove the guided missile from Fortnite!