Fortnite update LTM giving griefers a bad time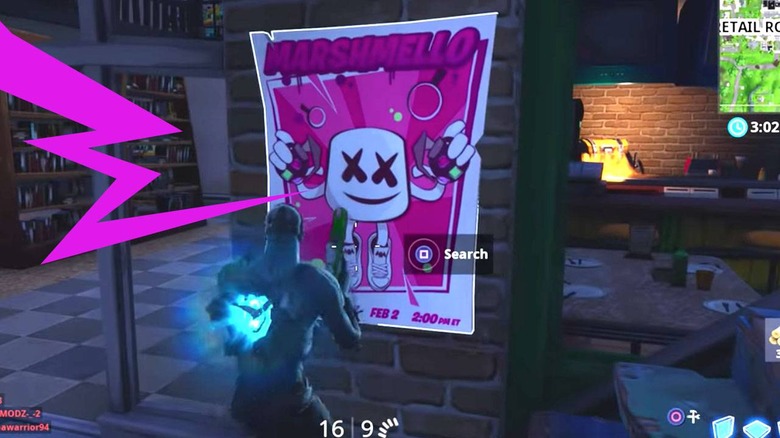 Fortnite's next update will include a Limited Time Mode (LTM) that stops users from dying – sort of. Users will see this mode enacted in the Marshmello concert set to take place on Saturday. At that time, the event will take place in the game at Pleasant Park. When this LTM is in play, users will respawn with the greatest of ease.
Users generally die right out the gate when someone knocks on their back with an ice pick in Fortnite. With this new mode enabled, it'll just be a matter of popping back into the game to continue listening to the fresh beats. Can other players still bust up the concert with a single well-placed blast to a concert platform? Maybe! But it's no longer a situation in which one player can ruin all the fun.
Party at Pleasant Park will take place at 2PM EST on Saturday, the 2nd of February, 2019. At that time, a wide and wild number of oddities will be happening in-game. Leaks suggested that users will be able to do the following strange or otherwise awesome things:
• Visit Showtime venue
• Search a Showtime Poster
• Use "Keep It Mellow" dance move
• Keep It Mellow at Trucker's Oasis
• Keep It Mellow at Ice Cream Parlor
• Keep It Mellow at A Frozen Lake
• Dance on a truck stop sign
• Dance on top of the new Durrr Burger restaurant
• Dance on a concert stage
The event update – the one that just dropped this week – was discovered in part in a set of leaks earlier this week. This set of documents included a latest set of folders – Athena, Items, Challenge Bundle, LTM, and Package Name QuestBundle_Festivus. It's on. It is so, very on.
Some players have begun practicing their dance moves in various maps throughout the Fortnitesphere this week. As Instagram and Twitter suggest, there've been some real-world Marshmello dancings going on as well. Have a peek at the big Ninja x Marshmello event that took place at E3 to get yourself pumped up!