Fortnite Season 9 Release Date Confirmed In First Teaser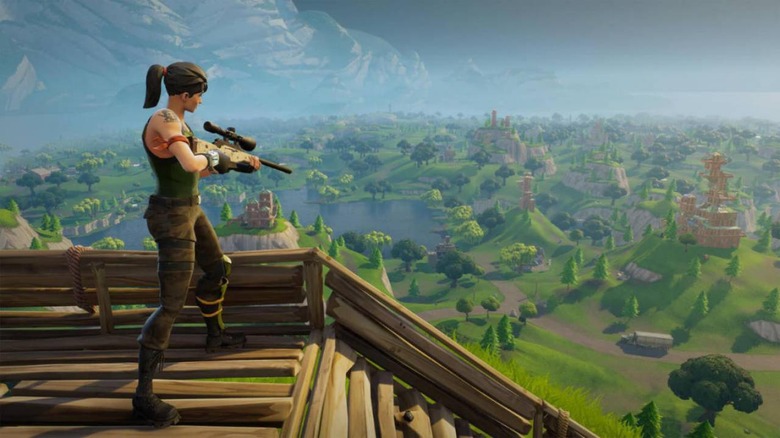 As Fortnite season 8 begins to wind down, it's time to start looking forward to the beginning of season 9. Epic has revealed when the next season will kick off, and launch is right around the corner. Of course, the announcement of season 9's release date was also accompanied by the first teaser for the season, which is par for the course for Epic.
Epic revealed on Twitter today that Fortnite season 9 will officially begin on May 9th, 2019. That's this Thursday, so we can expect a hefty patch to be coming around the bend in the wee hours of Thursday morning. As always, we'll need to wait for those patch notes to know what, exactly, is changing and what the battle pass will offer, but the teaser image Epic shared today might shed a little light on that.
The Future is Unknown. 5.9.2019 #FortniteSeason9 pic.twitter.com/OugJ6Y54G9

— Fortnite (@FortniteGame) May 6, 2019
The image shows the player character wearing some kind of high-tech Japanese Oni outfit, so in addition to whatever else launches with season 9, expect ninjas. We wouldn't be surprised if that's all anyone needed to get excited about season 9, but if ninjas don't get you hyped, we're sure we'll see daily teases for other skins from Epic as we close in on May 9th.
Over the weekend, Fortnite's volcano finally exploded, taking most of Tilted Towers with it. Fans have been waiting for Tilted Towers to be destroyed in one of these in-game events for a long time now, but unfortunately, not everyone was able to watch the event play out in real time.
The volcano's eruption and the destruction of Tilted Towers will almost certainly have a big role to play in season 9, and we'll find out just what that role is going to be on the morning of May 9th. Stay tuned for more.