Fortnite Season 9 Battle Pass Adds Fortbyte Collectibles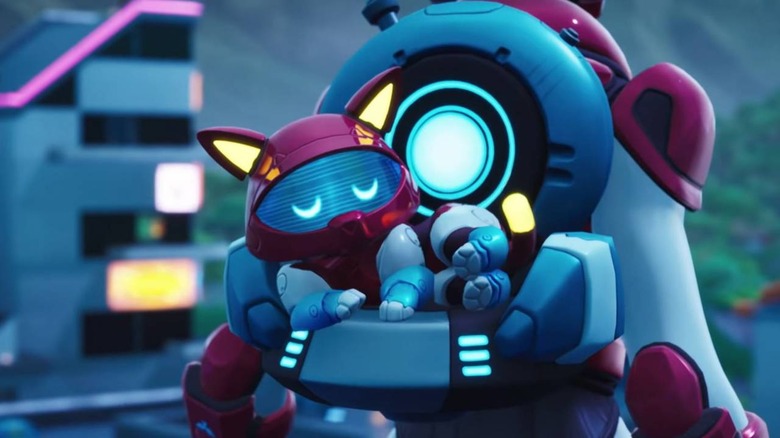 A new season of Fortnite has begun, and with it comes a new Battle Pass. As always, the Battle Pass offers players who buy it a host of in-game rewards to unlock over the course of the season, but this time, Epic is doing things a little bit different. For season nine, Epic has introduced a new Battle Pass mechanic: Fortbytes.
There are 100 Fortbytes in all, and Battle Pass owners will need to collect them throughout the season. Epic says that on day one of season nine (which is today), there are 18 Fortbytes hidden around the in-game world. A new Fortbyte will be added to the map every day until there that total of 100 has been met.
As you collect Fortbytes, you'll be working your way towards decrypting a "mysterious image." Epic says that players who collect them all will earn rewards and "uncover the secrets of season 9," so if you're going to buy the Battle Pass, you'll definitely want to keep an eye out for them as you play.
Beyond the addition of Fortbytes, the Battle Pass for season nine is like any other Battle Pass from previous seasons, only this time with a futuristic slant to it. Upon buying the Battle Pass, which as always costs 950 V-Bucks, you'll unlock the Sentinel skin and the Rox progressive outfit. Throughout the 100 Battle Pass tiers, Epic has included a number of different cosmetics, including dual pickaxes, dances, sprays, and even a robot pet.
At tier 100, you'll unlock the final progressive skin of the season, Vendetta, which was featured in the very first teaser for season nine. You can check out the loot for all 100 tiers over on Epic's website, but be sure to drop down to the comments section and let us know what you think of the Battle Pass rewards for season nine.