Fortnite patch notes detail Drum Shotgun at long last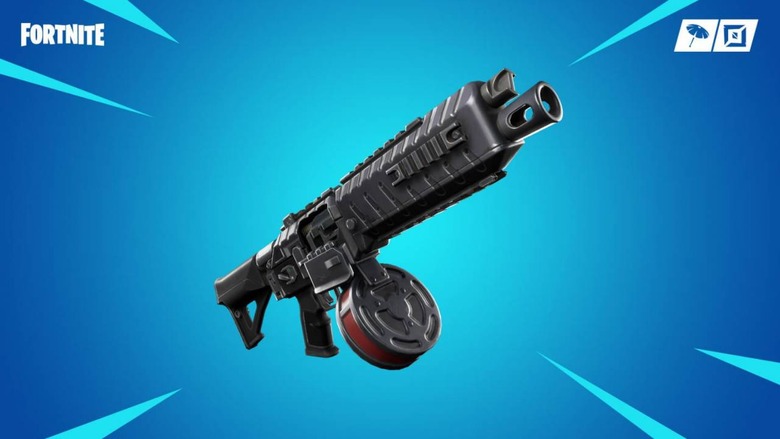 If there's a trend with recent Fortnite patches, it's shaping up to be one of shotguns. Last week's patch reintroduced the Pump Shotgun, once the bane of many a player, and this week's patch is finally bringing us the Drum Shotgun. In other words, get ready for some up close combat, because Epic is certainly giving you the tools for it.
Strangely, the Drum Shotgun is the only thing shipping for Fortnite battle royale in this patch. There are no other weapon tweaks, bug fixes, or weapons heading into the vault this week. With a light patch ahead of us, let's dive right into what the Drum Shotgun will be capable of.
The Drum Shotgun will be available in common, uncommon, and rare variants from floor loot, vending machines, and loot carriers. That means you should encounter it somewhat frequently as you scour Fortnite's map, though it is worth noting that since there aren't epic or legendary variants, it might be outpaced in terms of damage in the late game.
In any case, the Drum Shotgun does 45/47/50 damage per shot depending on the rarity. It also holds 12 shells per round, so you can fire off quite a few shots before you need to reload. If you're invading an enemy structure and you have less-than-stellar aim at close range, this might be a good weapon to bring with you.
Even though the Drum Shotgun is the only thing of note in this week's patch, it's worth pointing out that Fortnite's 14 Days of Summer event is still ongoing, with daily challenges to complete and a daily rotation of LTMs to play through. You can read more about the 14 Days of Summer event here, or you can hop over to the official Fortnite site to read more about this week's patch.