Fortnite is now an official high school sport - yes, really [UPDATE]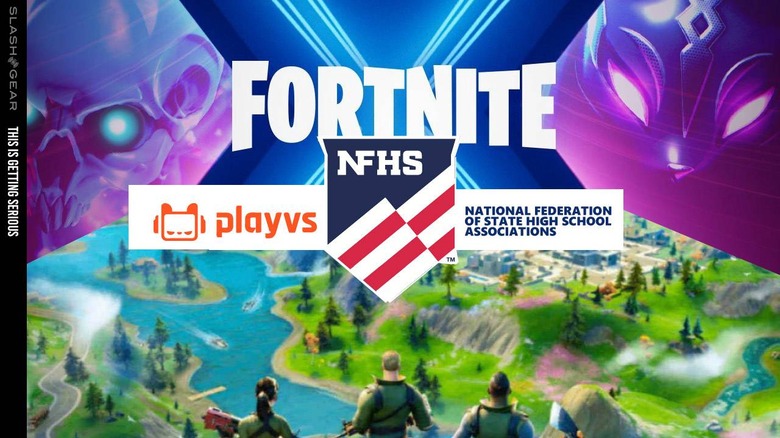 Fortnite joined the ranks of official esports league play, sanctioned by the NFHS and CIFSS in association with the group PlayVS. The NFHS is the National Federation of State High School Associations, the nonprofit organization that writes the rules of competition for "most high school sports and activities" inside the United States. California Interscholastic Federation-Southern Section is the athletic and educational association that governs high school athletics in Southern California – or MOST of SoCal.
UPDATE: A representative of PlayVS clarified how Fortnite will operate in their gaming system. "Fortnite Leagues will function outside of PlayVS' current partnerships with the NFHS and individual state associations," said a PlayVS representative. " These partnerships currently support League of Legends and Rocket League, titles that have been specifically chosen for the high school lineup based on game content. Any school in any state opting into Fortnite will compete in a national club league, separate from their respective state associations."
The original article continues below:
PlayVS is a company that provides an online platform that schools can use to manage their participation in esports (video game sports). Normal sports use physical fields of play for games like football, baseball, and so forth. PlayVS decided to fill the gap that was quickly forming at the dawn of widespread acceptance of video games as a legitimate form of organized sport in association with schools.
"PlayVS provides the infrastructure and platform for amateur esports, starting with high schools," said an official representative of PlayVS. "We partner directly with game publishers and states to build and operate sanctioned leagues across the country. Through the National Federation of State High School Associations (NFHS), PlayVS empowers students to compete in esports on behalf of their high school, with the opportunity to win a championship, just like any other youth sport."
At the PlayVS website they've attempted to make the whole process look simple. They've split each school year up into 2 seasons – Fall and Spring. They've split up the week with official matches on weekdays – Tuesday, Wednesday, and Thursday – and suggest the following of the structure.
Season Structure – via PlayVS: "A season is divided into a two-week long preseason, an eight-week long regular season, followed by the playoffs. A champion is crowned at the end of each season."
At the high school level, PlayVS had Rocket League before now. Now, as of this morning, they've got a Spring 2020 Fortnite (High School) Schedule posted and ready to roll. The registration deadline for participating school teams is February 17, 2020. Practice matches begin February 19, and the regular season begins February 26.