Fortnite Harley Quinn skin confirmed with two different styles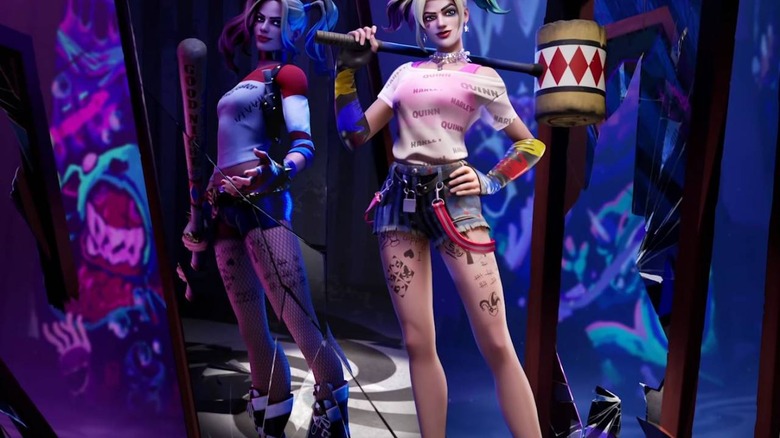 Throughout the years, Fortnite has had no lack of crossovers with other media franchises, and many of them have been superhero themed. Another one is about to begin, but this time, it's a supervillain at the center of it. Fortnite will be soon be offering a Harley Quinn outfit in its item shop, giving players the chance the dress up as one Joker's most frequent allies.
Of course, we knew that a Harley Quinn skin was on the way, thanks to leaks and teases from Epic itself earlier in the week. Now it's official, though, and if you want to pick up the Harley Quinn skin for yourself, you'll have your chance beginning tonight at 7:00 PM ET.
That's when the outfit will go on sale with the Harley Hitter and Punchline Pickaxes. When you buy the bundle, you'll get the "Lil Monster XoXo Harley" skin, but you'll have the chance to unlock the "Always Fantabulous Harley" skin by completing a series of challenges. Check out the challenges you'll need to complete below:
• Place top 30 in Solo, Duos, or Squads, then top 20, then top 10.
• Hit weak points.
• Deal damage using Pickaxes.
So, depending on you skill (particularly your aim), those challenges may not be too hard to complete. There's no Batman-themed event to go along with the arrival of this Harley Quinn skin, probably because we find ourselves in the midst of another event called Love and War.
Aside from introducing new cosmetics to buy and earn through playing, Love and War also introduces an attack and defend game mode called Search and Destroy, which splits players into teams of six and tasks them with either destroying a bombsite or defending it. Love and War will run until February 17th, which is the same day that this Harley Quinn bundle will leave the shop.