Fortnite Harley Quinn skin leaks after Epic shares another teaser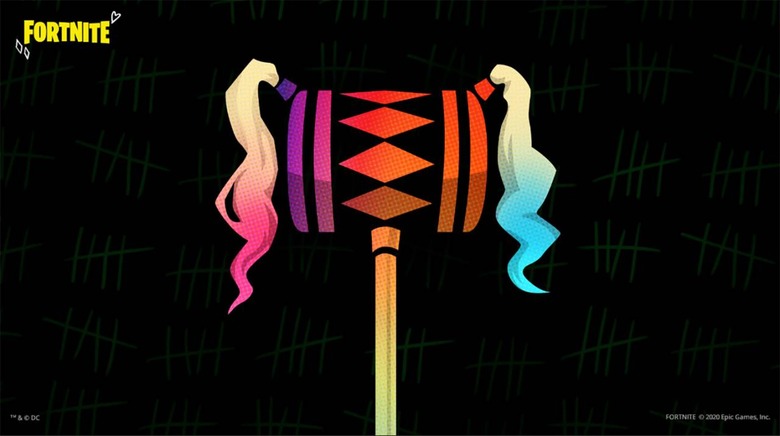 It's all but official: Fortnite will soon get a Harley Quinn skin. The company itself first teased this skin, though it didn't provide enough information for players to know exactly what to expect. Epic followed up its teaser with a second teaser which itself joins a recent leak that shows off the actual character skin. The cosmetic will likely be made available on Friday.
News about the Harley Quinn crossover in Fortnite first appeared in a tweet from Epic Games on a Warner Bros Pictures tweet in late January. The company merely said, 'See you soon Harley!' This indicated that Epic is planning some type of Birds of Prey crossover that will, at minimum, involve the character Harley Quinn.
The company dropped another teaser on its Twitter account this week, one simply featuring a new piece of artwork: a hammer with Quinn's iconic multi-colored pigtails. 'Treat me like a game and I'll show you how it's played,' the tweet reads alongside a Harley Quinn hashtag. The teaser doesn't include any sort of information about what Epic has planned, though.
Joining these official tweets is a very unofficial leak from notorious game leaker "Lucas7yoshi" who has published what he claims to be the Harley Quinn skin that'll be released in Fortnite's Item Shop.
— Lucas7yoshi – UEFN Fanboy (@Lucas7yoshi) February 5, 2020
The skin will have an upgrade, according to the leak, which lists the cosmetic as part of the 'Gotham City' set. The big question remains: will other Birds of Prey characters also appear in this crossover or is it limited to Quinn? Though we don't have an official release date for the item, it is likely safe to say that Epic will release the item on Friday when the Birds of Prey movie hits theaters.