Formula E reveals ROBORACE driverless EV series for 2016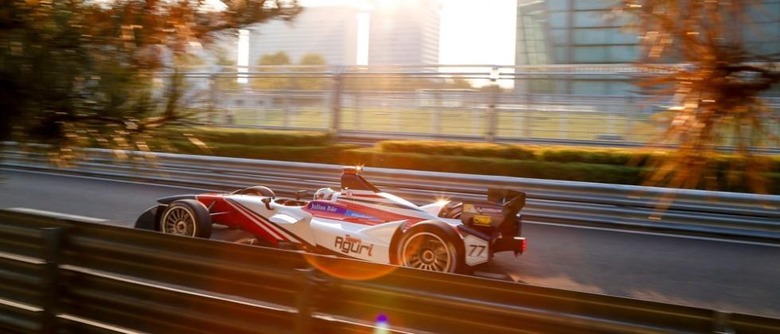 Could driverless racing ever as exciting as events where there's meat behind the wheel? Formula E believes so, with ROBORACE expected to kick off during its 2016-17 season. Billed as part of the support package for the FIA Formula E Championship, the races will see autonomous electric cars going up against each other as teams compete to hone the best AI.
Each race will see ten teams compete, with two cars apiece. They'll use the same tracks as the regular Formula E electric races, each session lasting an hour.
Interestingly, the differentiation between the teams won't come from the physical cars themselves, but the software they rely upon to replace a physical driver. Each car will be identical, leaving participants to tweak the real-time algorithms and AIs to get an edge.
While it should make for some entertaining racing, according to ROBORACE founder and Formula E partner Denis Sverdlov of Kinetik, the trials should also help accelerate self-driving car development and acceptance.
"We passionately believe that, in the future, all of the world's vehicles will be assisted by AI and powered by electricity, thus improving the environment and road safety," Sverdlov said of the new series. "ROBORACE is a celebration of revolutionary technology and innovation that humanity has achieved in that area so far. It's a global platform to show that robotic technologies and AI can co-exist with us in real life."
Details on the teams themselves and the technologies they'll actually race have not been announced, with Formula E promising more news in the new year.
However, one of the ten will be a "crowd-sourced community team" that the organizers say will be open for "enthusiastic software and technology experts" so that they can go head to head with mainstream automakers and big-budget researchers from universities and other companies.
NOW READ: We went head-to-head against Audi's self-driving racer
It's not the first time we've seen attempts to prove self-driving technology on the race track. Audi has developed a number of prototype cars, based on its RS 7, which can memorize a course and then complete a "perfect" lap, for instance, including taking into account differences in weather conditions and more on the day.
SOURCE Formula E