Former Bioware developers to create Android-based living room game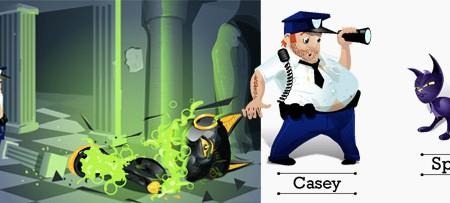 Hungry Moose Games, a game studio in Canada started by former Bioware developers, is working together with Green Throttle Games to develop a new Android-based living room game designed specifically for Green Throttle Game's Atlas controller. The title is called 9 Lives: Casey & Sphynx, and it follows a "misfit" couple, Casey the security guard and Sphynx the stray cat, who together risk their 9 lives on a puzzle-based adventure.
You will be able to play the game on an Android device, or through your TV. You can play the game in single player mode, or play with a friend through local multiplayer for a much more enjoyable experience. The game is packed with puzzles where "death is sometimes the only option". Your goal is to gather up the pieces of the idol of Bastet, which Casey the security guard "smashed to reverse the age old curse and return the world to normal".
The Atlas controller supports a wide variety of devices running Android 4.0 Ice Cream Sandwich and higher. It connects to your Android device through Bluetooth. The device also requires an HDMI or microHDMI video output if you want to play Atlas-compatible games on your big-screen TV. You can easily discover games compatible with the Atlas controller through Green Throttle Games's Arena app.
Green Throttle Games's Atlas controller, like Ouya and GameStick, wants to be a major competitor in the world of game consoles. These three companies are focused on bringing affordable, and even free-to-play games, to your big-screen TV in order to bring back the good ol' days of playing games in your living room. Sony has also released a new feature for its Xperia devices that allows users to play games on those devices using a PlayStation 3 DualShock 3 controller. You can purchase a single Atlas controller for $39.95, or a two-pack for $79.95 (which includes a bonus $10 Amazon Gift Card).
[via Android Community]